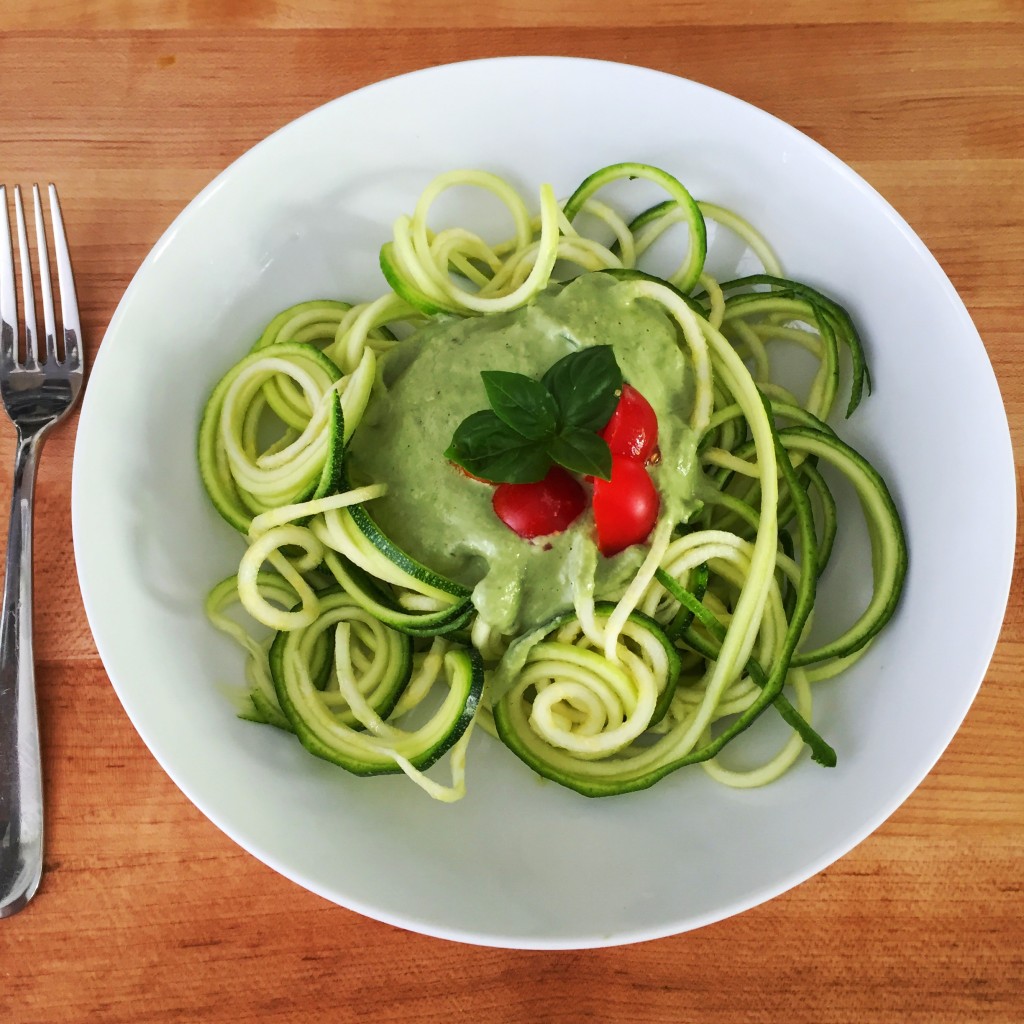 Zucchini pasta with creamy pesto sauce is one of my favorites for a perfect summer time meal. This is a delicious, vegan, raw, and super simple recipe that is a go-to for a quick inexpensive dinner. I'm still seeing bucket loads of zucchini at the farmers market, so I thought I'd have a go at my favorite raw vegan zucchini pasta with creamy pesto sauce. I am obsessed with turning vegetables into pasta because it is a healthy and tasty alternative to regular store bought pasta. Another vegetable that I have been spiralizing are sweet potatoes. I have tried so many machines and this little spiralizer from Oxo is perfect and so easy to use. It is my absolute favorite because it is small and cleans super easily.
Ingredients 
2 large zucchini
1 cup cashews (soaked for at least 4 hours)
1/2 cup water
2 cups basil leaves, stalks removed
1 cup baby spinach
1/2 cup walnuts
1 tbsp lemon juice
2 tbsp Nutritional yeast
1/2 tsp flaky sea salt, twist of black cracked pepper
Cherry Tomato and fresh basil to garnish.
Directions
Cut the ends off of the zucchini and press the zucchini (unpeeled) through the spiralizer. Place the flat end of the zucchini against the blade and twist the vegetable clockwise while applying pressure.
Drain cashews, and place them in a high speed blender with the remaining ingredients (except cherry tomatoes). Blend until smooth. If the mixture feels a little too thick, you can add a little more water.
Pour sauce onto the "noodles" and serve topped with cherry tomatoes. You can toss the sauce with the zucchini, but I think it looks prettier to serve and let your family/guest toss it themselves.
Enjoy!
For more Gorgeously Green recipes delivered right into your inbox, subscribe to my weekly newsletter