The absolute highlight of Natural Product Expo West this year was the stunning fashion show put on by Whole Foods Market and the Whole Planet Foundation. This show featured Whole Foods Market's apparel, jewelry, and accessory brands, which are produced by women who are supported by micro-lending programs, set up by The Whole Planet Foundation, in areas where Whole Foods Market sources it's products.
The show was a burst of sumptuous color with gorgeous Batik patterns, and simple, but elegant designs. All the brands that were included in the show were brands that are making a big difference in the world. Since the fashion industry is typically incredibly wasteful and unsustainable, it is a beautiful thing to see Whole Foods Market supporting conscious brands who care about every detail of their production chain.
I will be supporting every single one of these lines, by purchasing at least one item, especially when some of the beautiful accessories will hit Whole Food stores around Holiday time 2015.
Brands that were included, and to look out for this year are:
· Synergy Organic Clothing – This amazing Green America Certified brand is an all organic fashion line that supports communities in Nepal where is clothing is produced. Clothing is made from certified organic cotton, supports the Waterwheel foundation and is the first Northern California brand to receive the Global Organic Textile Standard. The husband wife team who founded this brand take extensive steps to support the Nepalese women who produce all their clothing. This brand is new to Whole Foods Market and is currently in 3-4 regions in 2015.
· PACT – Organic cotton and some Fair Trade, supports one of the largest organic cotton co-ops India. This brand is available in most Whole Foods Market stores.
· Satva – Beautiful GOTS certified organic, yoga inspired lifestyle gear from India.
· Threads for Thought – Organic cotton and recycled poly materials. This brand is available in most Whole Foods Market stores.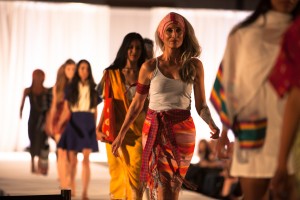 · PrAna – This brand has one of the best supply chains in the business. Their goal is to mitigate impact on the environment in all aspects of the supply. This company does so many things right and strives to certify best practices in every step; materials, environmental impact, community contribution. This brand is in four regions, and is slated to expand into more regions in 2015.
· Maggie's Organics – Maggie's is one of the very few brands who can boast all organic materials and a supply chain in one area. All organic they farm, gin, spin, weave and cut and sew in Peru. Joe and Jeanne will be visiting Maggie's supply chain in April. One of the first companies on the market to certify their organic materials and strong advocates for the impact organic cotton has on our environment and farmers. This brand has new apparel coming to two regions in Whole Foods Market this year.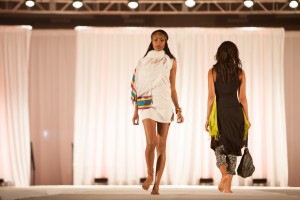 · Whole Planet Textiles – some scarves in show are made with materials directly from Whole Planet micro clients. Silks from Thailand and wovens from Africa and South America. In addition there will also be scarves and accessories from a nonprofit that supports female workers in Indonesia and Africa in the same areas where WPF is working to alleviate poverty.
· Chavez for Charity – Beautiful bracelets that donate back with every sale to a wide range of charities.
· Acure, Pacifica, Trilogy and Mineral Fusion – Outstanding "clean" beauty brands have created looks specifically for this event.
Remember, every piece of fabric you wear, every morsel of food you eat, and every skin care product you buy involves a long production chain before it gets to you – it can be positive or negative in terms of its impact on the planet and the people who toil to produce the things we need and love. Let's support the positive, right?