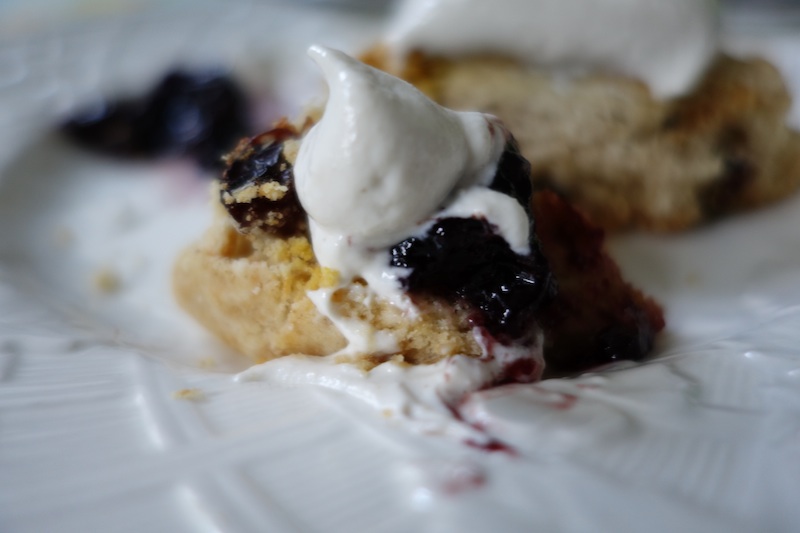 I love these super food vegan scones because no one can put me off an afternoon scone. For me, it's truly about allowing myself (no matter what eating plan I'm on) to have treats – and loads of them. I can always have my treats if they are healthy, and that's what I'm all about. So, why not indulge your taste buds in this buttery, crumbly, dairy-free delight?
Watch my video on how to make these delicious super food vegan scones here.
Ingredients
Super Food Scones 
1/4 cup Sweet Leaf Sugar Leaf + 1 tsp
8tbsp Earth Balance Vegan Buttery Sticks
1 cup almond or rice milk + extra for brushing
Cashew Cream
Instructions
Preheat oven to 350 degrees F
Place flour in a bowl and mix in sugar
Cut buttery stick into small cubes and add to flour. "Rub" in into the mixture with your fingers until your get a crumbly texture with pea-sized chunks of the "butter".
Mix in the milk and berry blend.
Use your hands to massage the dough into a large ball.
Place it on a greased baking sheet or parchment paper, and press into a disk. Use a large knife to cut it into wedges.
Brush with a little extra almond or rice milk, and sprinkle with 1 tsp of the Sweat Leaf Sugar Leaf.
Bake for 20-25 minutes, or until the top of the scones are lightly browned.

Place all the ingredients for the cashew cream in a high speed blender and blend for about 1 minute, or until you attain a smooth, creamy texture. 

Serve with Crofters Organic Fruit Spread and cashew cream.
Enjoy your super food vegan scones!
For more Gorgeously Green recipes delivered to your inbox, subscribe to my weekly newsletter!