This spring, I've been challenging myself to figure out how to make each room in my house greener, healthier, and more sustainable. And I cannot wait to show you how to tackle the challenge in your bathroom! It starts by getting rid of some things, and restocking with products that contain naturally-derived ingredients and reflect sustainable practices. Tom's of Maine is helping me trick out my daughter's bathroom with natural options for deodorants + antiperspirants and oral care products that harness the best of nature. I can't wait to tell you more, I have some amazing tips in the video above!
Look for post-consumer content (aka recycled) toilet paper – Skip the super fluffy white option for something that is far less taxing on new resources.
Look for feminine care products that are chlorine free.
Skip the plastic-stemmed cotton swabs and go for an option that contains a cardboard stick.
Swap out your cotton pads (which can be bleached or made with chlorine) for a muslin cloth to clean your face. You can find them on Amazon!
When you're looking for bathroom products (which, admittedly, can be a little overwhelming), I love Tom's of Maine. Not only do you know you are getting an amazing product, but their line is made using 100% naturally-derived ingredients and sustainable and responsible business practices. Their products are cruelty-free, natural, phthalate-free, and recyclable through TerraCycle's Natural Care Brigade. Plus, Tom's of Maine truly walks the walk. This April, they announced a partnership with The Nature Conservancy including a $1,000,000 donation to help turn the tide toward better protecting, preserving and restoring our nation's waterways in 2018.
If you're looking for a deodorant, I love Tom's of Maine Long Lasting Lavender Natural Deodorant. First of all, the scent is heavenly. Secondly, unlike some natural deodorants out there, Tom's of Maine won't leave you smelling a little funky towards the end of the day – this product WORKS.
If you prefer an antiperspirant, check out Tom's of Maine Coconut Lavender Antiperspirant. Are you ready for my absolute FAVORITE part of this product: It contains 100% naturally-derived fragrances. Plus, it keeps you smelling amazing with 24 hour odor and wetness protection. I'm so excited to have this during the summer!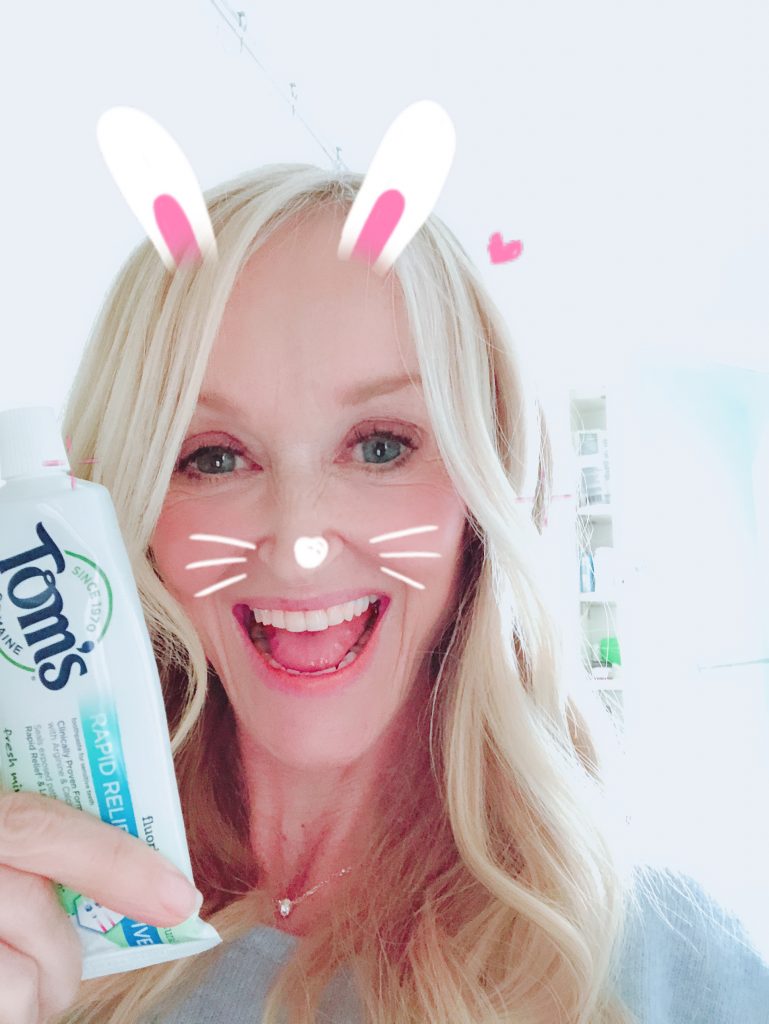 Did you know Tom and Kate Chappell created the first Tom's of Maine toothpaste in a kitchen stand mixer? Tom's of Maine's portfolio has grown over the years and they offer many that I love, including options for kids.
Tom's of Maine Luminous White Natural Toothpaste – Remove those surface stains in just two weeks! I love that this formula is safe on enamel, and is biodegradable – It's also gluten-free for my GF friends!
Tom's of Maine Rapid Relief Sensitive Natural Toothpaste – This is my personal favorite because I'm a little older than my teenage daughter, and I'm experiencing some gum recession. It uses a powerful combination of arginine and calcium carbonate — both derived from natural sources — to seal the pathways to sensitive tooth nerves to help block the pain.
Tom's of Maine Botanically Bright Whitening Toothpaste – This is totally my daugher's favorite, as she is very concerned about white teeth. She and I both love the taste, and are totally obsessed because IT WORKS!
Tom's of Maine Fruitilicious Natural Kids Toothpaste – Remember the days when you had to trick your kids into brushing their teeth? Although I'm a little past that with a 16-year-old, I had to show you the Fruitilicious flavor from Tom's of Maine. Full confession: I tried it, and loved it. Maybe I'm Fruitilicious too 🙂
Tom's of Maine Whole Care Mouthwash – This is seriously a product I can't live without. I never liked the feeling of the alcohol-based mouthwashes that can create a burning sensation. Whole Care Mouthwash is amazing: Not only does this product fight cavities, clean between teeth and leave your breath smelling minty fresh, but it strengthens your tooth enamel and restores minerals to keep your smile gorgeous for a long time!
Remember that you need to be green when you clean your bathroom too! Ditch the foaming, spray, toxic cleaners for a DIY option – I like a mixture that is 1 part white vinegar, 1 part baking soda, 1 part dish soap. Together, this makes a foamy, goopy, gritty scrub I use all over my tiles and tub. Slather it on, and either let it sit or get some elbow grease in there. Rinse and enjoy a wonderfully clean bathroom!
Also, white vinegar is your BFF. I keep it in a spray bottle and give all surfaces a good wipe once a week. I secretly love the smell 🙂 I also spritz around the entire shower stall to prevent mold and mildew. No expensive products needed.
Finally, do everyone a favor and ditch the fake fragrances. Go for a DIY option – Here's my favorite!
And, guess what? This whole bathroom detox project inspired me to ask Toms's Of Maine to do a bathroom takeover at my upcoming Gorgeous For Good Retreat in Los Angeles June 9th/10th. This is a weekend for you to experience everything imaginable in the Sophie Uliano wheelhouse. ALL my favorite brands are going to be there doing something really special for you. And, what makes my heart sing is that some of the brands that I literally took onto Oprah (Tom's) and mentioned in my first book, Gorgeously Green, are coming to be part of this experience. We only have a few tickets left for this life-changing weekend, so act fast if you want to come by clicking on this link.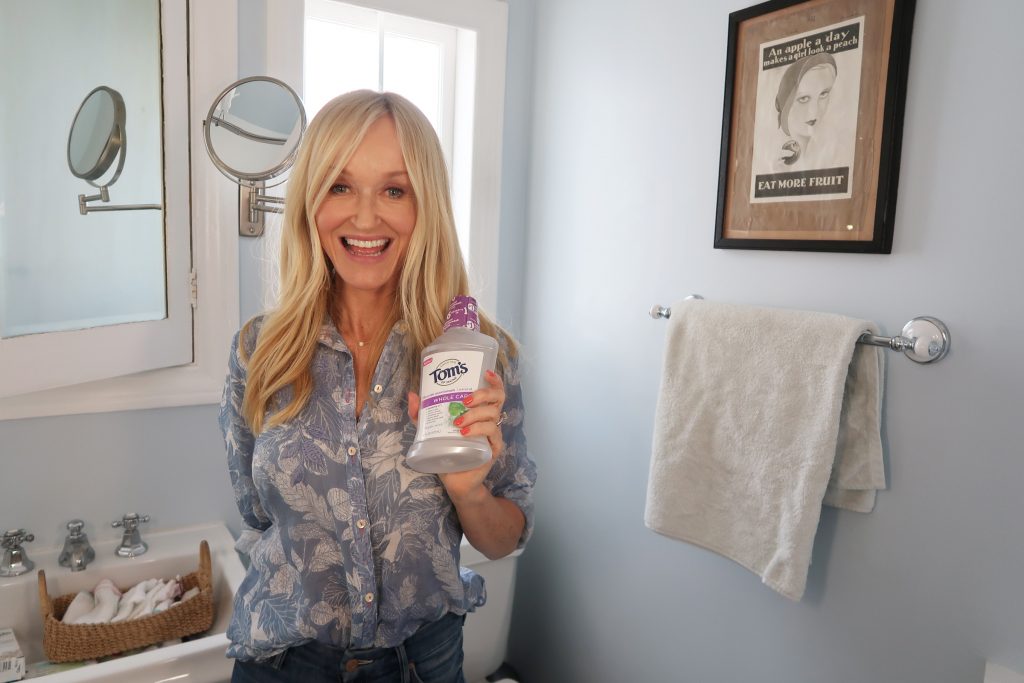 ---
Disclosure: Products and compensation were provided to me by Tom's of Maine, but my opinions are my own.