I popped into a brand new green & clean beauty store, Credo, in Los Angeles last week, to check out all the latest and greatest products, and to do some investigating. I wanted to find out how green-minded celebrities such as Megan Fox, Jessica Alba, and Gwyneth, get that sun-kissed glow on the carpet. You know the glow I'm talking about? Where they look as if they're sun-kissed from within, and all their features glimmer and pop. I've subsequently found out that the technical term for the light catching their features, is "strobing". So, I hit Cori, the lovely makeup artist in Credo, with a bunch of questions, and came away with the exact products I need to create the look.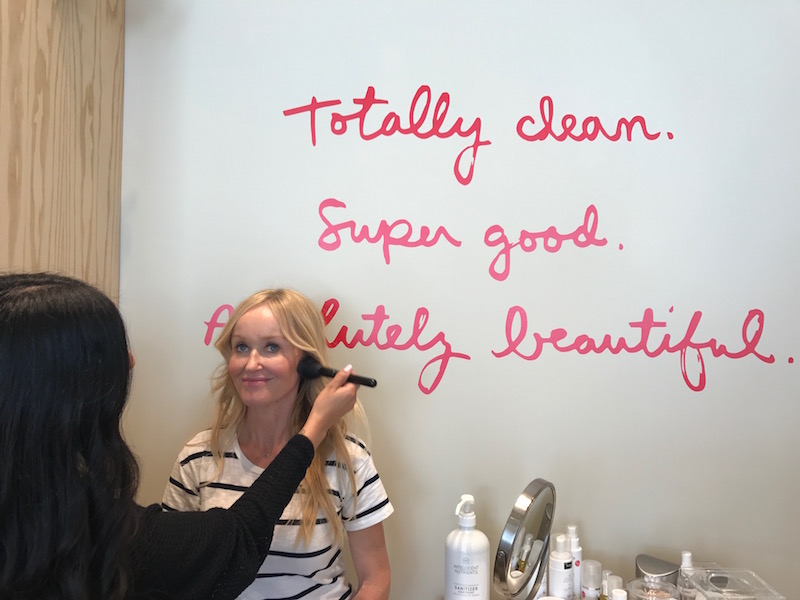 Gressa Minimalist Corrective Serum Foundation: It's actually a foundation and a serum all in one. This, my friends, is next-generation makeup, which blows my mind. When I wrote my first book, Gorgeously Green back in 2008, there really weren't any great foundation brands, and now there are quite a few – but Gressa takes it to the next level. The base of this foundation is broccoli seed oil, which performs just like the silicones that you would typically find in a foundation or primer. But unlike silicone, it is one of the most nourishing plant oils imaginable, due to its extremely high antioxidant and vitamin content. It's also full of Omega 3 Fatty acids to deeply nourish your skin. But all this wouldn't have tempted me away from a full-coverage foundation, were it not for the fact that it is full-coverage! All you need is a couple of drops, and using the special Gressa brush to apply, you literally get a totally air-brushed and flawless base. In LOVE!!!!! By the way, if you are wondering which shade to get, their most popular shade is #3. This works well for a wide range of complexions, and is my perfect shade. If you have very pale skin, go for #2, and if you are super tan, go for #4. And if you have dark skin, #8 should suit you well. I highly recommend their Air Focus Foundation brush. It's been specially created for this foundation in that the silky bristles are closely packed together and pick up a tiny bit of the foundation. Then you buff just a couple of drops onto your face to get that air-brushed look.
Powder: No one wants to look over-powdered. It's aging, even on the red carpet, so the secret according to Cori, is to use a very fine-milled powder such as RMS Beauty's Un powder. I've been using this for years, and have just realized that my daughter has taken off with mine. Grrrrrr… off to buy a new one (and it'll come out of this week's allowance!).
Luminizer: The one that almost every A-lister owns is by RMS beauty, and it's the Living Luminizer. This little pot was created by makeup artist Rosemary Swift, and is in every red carpet makeup artist's kit. Rosemary Swift has been a makeup artist for 30 years when she suddenly got very sick from all the toxic products she'd been using for years. This is why she created her wonderful line. She recommends that you use her luminzer as follows: Above your cheek bones, sides of your forehead, and then dot a tiny bit just above the bow of your upper lip, and perhaps a dot on each eye lid. This way these areas of your face will perfectly catch the light, and YES, you will dazzle!
Bronzer: A good bronzer is obviously the key to getting the sun-kissed glow, and the bronzer by Studio 78 Paris does a beautiful job. I recommend getting the Desert Sand 02 shade because it's just the right amount of bronze (not to0 pale, not too dark). The make up artist who created Studio 78 Paris used to work for a huge designer make up brand, but branched off on her own to create a cleaner brand. This line is Eco Cert certified, which means it's passed stringent regulations in terms of clean & green.
Cheeks and Lips! Cori told me that less is often more on the red carpet. These ladies like to look as if they are super natural, and to get this look, many of them use Tata Harper's Volumizing Lip & Cheek Tint in Very Popular.I am a little obsessed with this multi-functional little pot, because I can pop it in my purse to get that pop of natural color on my lip and cheek, while I'm on the go.
I highly recommend you either pop into Credo Beauty (one in L.A. and one is San Fran) or visit their online store and have fun browsing. BTW – you can get a complimentary Bio Brightening Cream from W3ll People if you spend over $50.00