I spent one morning this week with vegan chef Rachel Carr making vegan cheeses. She is so talented. And, in case you missed the Facebook live chat, you an still see it on my Facebook page. Remember all my live stream events live permanently on my page – You just have to scroll down a bit to find it.
Someone asked Rachel if the vegan Pepper Jack cheese would melt, and she said she thought it would. So, I tried making some vegan mini  Pepper Jack grilled cheese sandwiches for lunch today, and it worked!!
OMG – these grilled sandwiches are beyond delicious. I highly recommend you try them for lunch or supper with a steaming mug of tomato soup. Or you can make tons of them to serve at a Holiday gathering, and serve the soup in little shot glasses.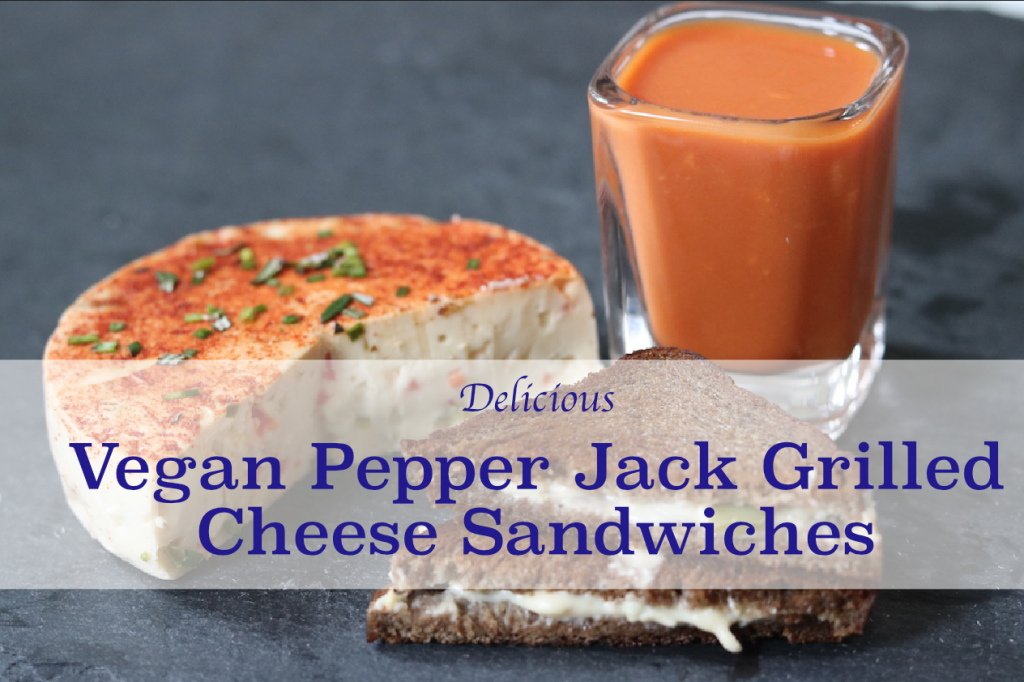 Vegan Pepper Jack Grilled Cheese Sandwiches

3 Tablespoons agar agar flakes
1/2 cup water
1/3 cup cashews, soaked if possible 2 hours and drained and rinsed
1/2 cup water
3 Tablespoons lemon juice
1 teaspoon salt
1 clove garlic
1 Tablespoon nutritional yeast
1 teaspoon arrowroot powder
1/4 cup finely chopped fresh peppers (jalapeño or bell pepper), seeded
1 teaspoon smoked paprika, for dusting at the end

Instructions

First add the agar agar flakes to a sauce pan with 1/2 cup water and set aside.
Add the cashews, the other 1/2 cup of water, lemon juice, salt, garlic, nutritional yeast and arrowroot powder. Blend until smooth and add to the saucepan with the agar agar.
Whisk well and bring to a boil. Turn the heat down to the lowest possible setting and cook for 5 minutes. It will have the consistency of thick pancake batter.
At the last minute, fold in the finely chopped peppers and stir well.
Prepare your mold (I used a 3″ diameter ramikin) by cutting a piece of parchment paper the exact size of the bottom of your mold to help it release when it's cooled. Place the paper in the mold and set aside.
Pour into whatever mold you are using and refrigerate for 30 minutes to 1 hour. It should be about the firmness of extra firm tofu or a soft cheese, and will be sliceable!

For the toasts, I simply added a little avocado oil to a skillet. I took mini pumpernickel bread slices (you could go gluten free if you want), and spread one slice with a generous serving of the cheese. I stuck it together with the other slice and fried it in the pan until brown on each side.