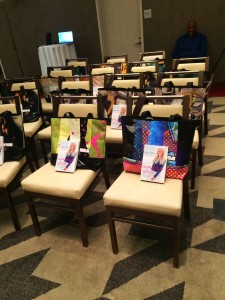 I want to thank all of you who attended my skin-to-soul seminar on Monday. I know that hundreds of you were able to join me live, which was fantastic – I just wish I could have gotten to all your questions, but I will be sure to answer them on Facebook and blog posts over the next few days and weeks. BTW – keep your questions coming ladies… if you need to know something, then you can bet that hundreds of other women need to know it too.
I wish you could have actually been with me in NYC! We live-streamed my presentation from the glamorous Gansevoort Park Hotel, where I gathered together a handful (actually more than a handful), of my very favorite companies and organizations to celebrate being Gorgeous For Good.
We spent the morning sipping on Lov Organic Tea, and sampling the most amazing raw juices and hot vegan soups from Juice Press (which I wish was in my neighborhood back in LA) – their Fountain of Youth Smoothie is totally to-die-for. And if any of us were still hungry after these organic, warming offerings, So Delicious made us tiny mason jars of chia pudding prepared with my favorite So Delicious coconut milk and fresh blueberries.
What blew me away about this event was that every single company and organization that gathered together on a snowy Monday morning, were all about Good – all about making us and the world a healthier and happier place. I am honored to partner with all these inspiring powerhouses: Ecos, Mavea, So Delicious, 360 Cookware, Relan Bags, Uma Oils, Terracycle, Jane Iredale, Tata Harper, Born Free USA, Bead for Life, Exhale Spa, PritiNYC and Michael Todd.
Gorgeous for Good – my new book, and my philosophy is all about feeling uber fantastic. It's about feeling more energetic and vital than you've felt in years. It's about having your skin glow like it's never ever glowed. This is accessible and do-able to absolutely every single one of you regardless of your circumstances.
My passion is to teach you how to get and stay Gorgeous from your skin-to-your-soul, and stay that way forever!
If you haven't already, do snag a pre-order copy of my book here.