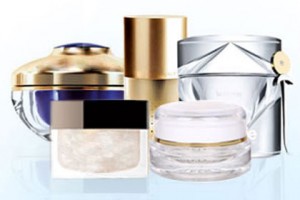 There are some items that I always splurge on (dollars-in-the-wallet permitting), and some that I always try to buy more cheaply. I know that because I'm quite a high maintenance girl (to say the least of things), I have to pick my products carefully, knowing when I have to rein myself in. Here's my general rule of thumb:
 Don't Splurge: Facial Cleanser. Sure some cleansers are way better than others, however, If I had to buy one facial regime product for less, this would be it. A half decent paraben-free cleanser will do a perfectly okay job of removing dirt, makeup and grime – plus you whip it off as soon as you've applied it!
Don't Splurge: Toner: I go for cheaper toners or make my own from ingredients such as aloe vera juice, witch hazel, rosewater and glycerin. Again, a toner is a product that will sit on your skin for just a few minutes and can only do so much.
SPLURGE: Moisturizer: Since many drugstore and even expensive department store moisturizers are filled with questionable ingredients (in terms of efficacy and safety), it amazes me how much they can still cost. A great moisturizer that is packed with all the necessary nourishing ingredients will feed your skin with antioxidants and so much more. Good moisturizers ideally need to be made in small batches and the company should be totally transparent about every single ingredient involved. Check out my Beauty Finds for countless beautiful moisturizers that I've recently found.
SPLURGE: Serum: If I'm going to the lengths of using a serum, it has to be worthwhile. I serum is highly concentrated nutrients, which are usually formulated in an oil base. I think you really get what you pay for with a serious serum, so I like to make sure, and an happy to pay for ingredients that stand out above some of the rest.
Don't Splurge: Makeup Remover Towelettes: Unless you have  a specific skin condition where you need wipes for very sensitive or acne-prone skin, it's fine to use a basic towelette. I prefer then to be un-perfumed because that I least I know that they will be phthalate-free (a counpound of chemicals I like to avoid.) Having cleansed or exfoliated my face, I prefer to use a hot wash cloth to remove the residue and toss it in the laundry basket after use.
SPLURGE: Clarisonic Mia: This is a game-changer. I couldn't believe how much grime came off my face after my entire cleansing routine when I used my Mia. It really does provide a very deep cleanse, especially if you choose the deep pore brush. This is so worth the splurge and you'll use it forever. BTW – you don't need to use it with any of their products – just your own cleansers and exfoliators will do find.
SPLURGE: Peels. There are really weak, ineffective peels on the market, and then ones that you can do at home that really pack a punch. My two faves are Sunshine Botanicals Papaya Peel Kit and the slightly weaker Ren Glycolic Radiance Mask. Both are worth every penny.
Don't Splurge: I rarely splurge on Shower Gel unless it's a lovely gift or sample has come my way. It's a luxury to use a gel that smells divine and leaves my skin feeling smooth, however, it's right up there on the must-have shelf.
 SPLURGE: Body Lotion: I think it's false economy if you try to buy a cheap body lotion. Cheaper ones tend to be filled with a lot of water and so they are thin and don't seem to do the job where dry skin is concerned. My two current favorites are Shikai Borage Therapy from Shikai and Out Of Africa Shea.
Don't Spurge: Shampoo stays  on my hair for less than 5 seconds and as long as it's paraben-free and sulphate-free, I'll got for a less expensive line.
 SPLURGE Each time I've purchased a cheap conditioner,  it's been a huge mistake, I massage my condtioner into my scalp and through my hair, leaving it on for a few minutes, so I want to make sure it contains more than a bit of mineral oil and/or wax.
Don't Splurge: Mascara. There are so many good cheap mascaras that perform just as well as the ones who are asking for triple dollars. We love the Honeybee Garden Mascara because ti's natural, inexpensive and does a wonderful job.
SPLURGE: Foundation. Aside from facial moisturizer, my life is sadly not okay if I haven't got a stellar foundation in my makeup purse Out of the hundreds that I've tried, only one reasonably priced on did a good-ish job. I'm pretty much resigned to the fact that you need to be willing to not only really search for a foundation that's right for you, but also have saved up your pennies for it.
SPLURGE: Eyeshadow: Cheap eye shadow can cake and sometimes the pigment isn't as strong as in more expensive lines. I recommend picking a palette that has the shades you love and splurging!
Don't splurge: Eyebrow pencil, kohl pencil: I think you can buy really great inexpensive eye pencils, but I always test them for how soft they are and especially the shade. I like to give myself time in a store like Sephora to try on my shade.
Don't splurge: Lip Balm: Since it comes off a few mintutes later, I don't splurge. I often make my own on by the cheapest natural ones I can find. I love the unusually shaped EOS lip balms.
SPLURGE: Fake Tan: I splurge on a good fake tan because I can't bear the orangery streaks that come with many of the cheaper ones. I like Lavera, and The Organic Pharmacy
SPLURGE: Perfume: I never, every buy cheap perfume, or even department store perfume. For the most part it is strong, was too cloying and the reason it's strong and has staying power is because of a chemical compound called phthalates. I will pay more money to buy a gorgeous natural perfume for sure.
Don't splurge: Cosmetic bag: I don't splurge because anyone that does the job and has the kind of compartments I need, will do just fine.
 SPLURGE: Hairbrush. A good natural bristle brush can last a lifetime and makes a huge difference when brushing or blowing out your hair. My favorites are Bass Brushes (Wholefoods) – they are beautifully made to last forever.
Don't Splurge: Toothbrush. Although I love my Sonicare brush, when recently out of town for two weeks, I used a cheap toothbrush and it did just as good a job.