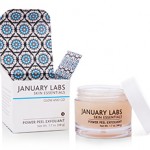 Tired of a complicated skin care routine? Want to keep things simple? You might want to check out a refreshingly new and simple skin care line called January Labs. The founder is the beautiful January, a licensed aesthetician, who spent years as an adviser in the skin care industry and eventually used her extensive knowledge to create her own line.
As I said before, I like the simplicity, which is reflected in the fresh, blue and white packaging. Their stand-out product is their Glow & Go Peel Exfoliant, which contains cinnamon oil to significantly brighten your skin.
The Complete skin care Essentials Kit is the way to if you want to give the line a try. It includes 4 full-sized products for you am/pm routine. Needless to say, this is clean skin care, which avoids every single aging/toxic chemical. I would recommend this line primarily for teens and women in their 20's and early 30's.