Warning – I AM going to brag right now! Okay, I have long, thick and healthy hair despite giving it a LOT of abuse. Hair stylists always comment on the health of my hair, and many people think I have hair extensions. But I don't! And it's not genetic because both my mom and dad have really thin hair. My mom has always had to use those dreadfully sticky volumizing sprays and gluey shampoos, and my dad has been bald since the age of 25. Sooooo – I put it down to making weekly and daily deposits into my "wellness bank account". If your hair isn't how you want it to be…if you want it to grow faster, thicker, and look more lustrous, here's how to grow thick & healthy hair naturally.
Oh, but first let me tell you exactly what the "abuse" that I was talking about. Hot tools (tongs and hair dryer) every other day. And I have to admit that I do have highlights (shocker I know!!). It's one of my eco-sins, but one that's here to stay…at least until I go gray! So heat styling and bleach regularly gives my hair a hard time.
Before I begin, I know you have a ton of questions about hair dye, so check out an article that I wrote here for my lovely friend Kris Carr. This should answer most of your burning questions.
Now, onto the wonderful business at hand.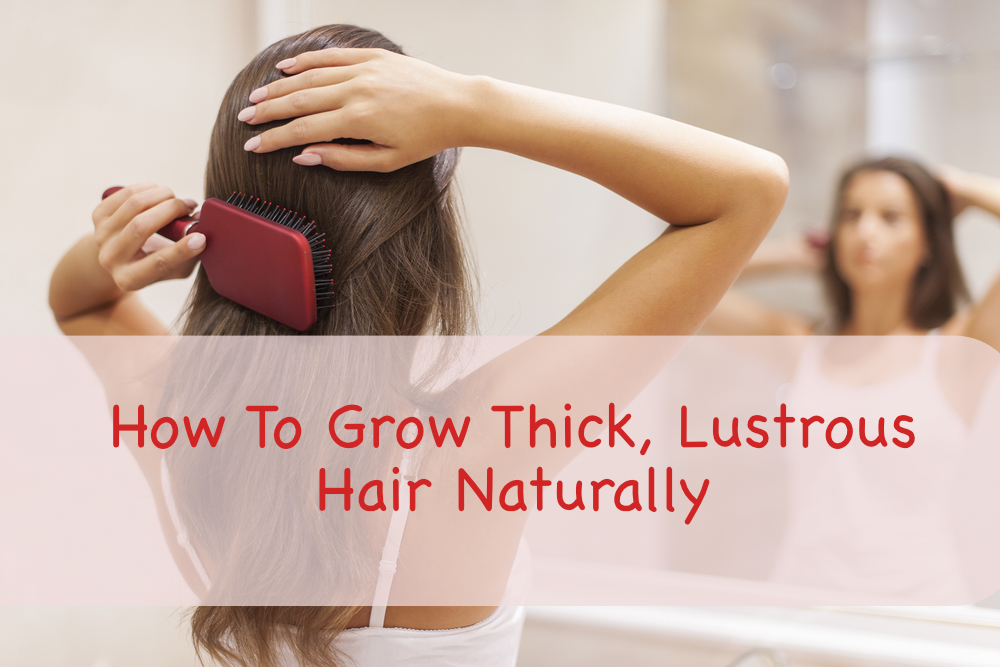 What To Eat For Healthy Hair?
You need your healthy fats, and you need lots of them. I recommend eating at least 1 tbsp of ground flaxseed a day (you can toss it in your smoothie) – this will give you loads of Omega 3 fatty acids. I also recommend eating a handful of pumpkin seeds, which you need for healthy hair growth. Eat spinach for your iron. And I recommend citrus fruits for your Vitamin C. I love to add Amla powder to my smoothie along with spinach. Amla is very high in Vitamin C, which will help your body to absorb the iron from the spinach.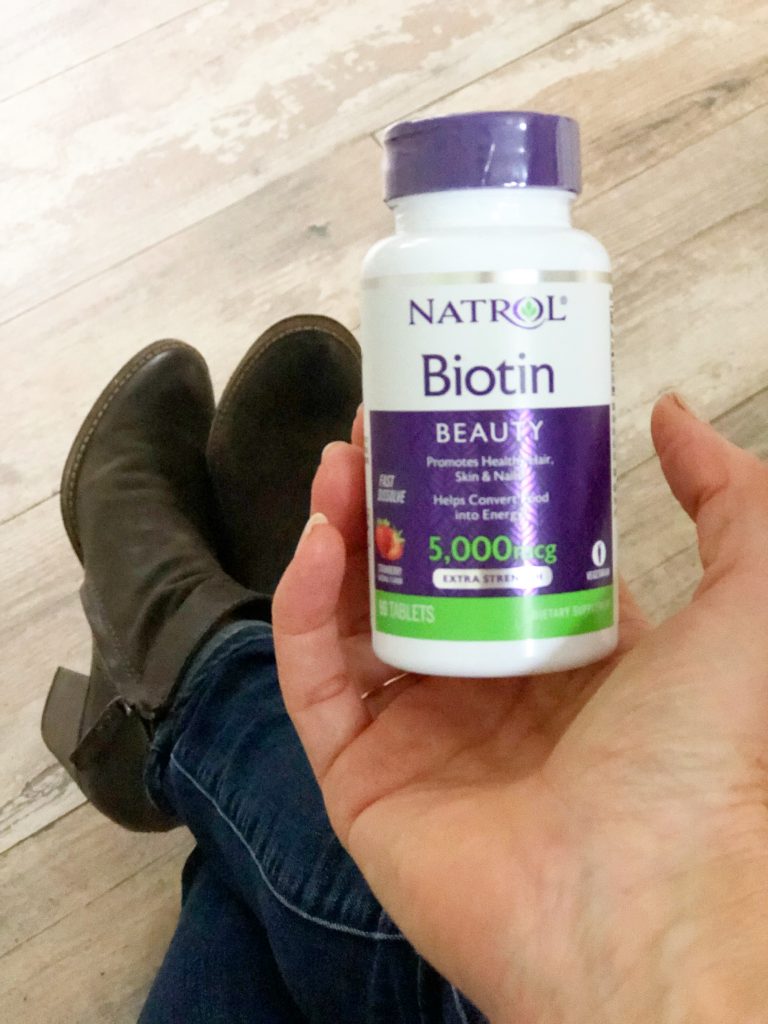 Supplements can really help
You may have heard of biotin for healthy hair and nail growth, and I highly recommend you grab a bottle if you want to grow thicker hair, faster. As you know, I'm a fan of Natrol, which is why I've partnered with them on this post. I'm a fan because a lot of Natrol's supplements are available as great-tasting and convenient fast-dissolves that melt in your mouth, which really works for me. I detest taking pills, and since I already have to take a couple of supplements, I'd rather that anything else be absorbed under my tongue.
Natrol has a Biotin Fast Dissolve. I recommend taking 5,000mcgs a day to grow healthy hair and nails. While you're snagging your biotin from Natrol, you also might want to grab one of their Vitamin D3 Fast Dissolve supplements, as this is important for healthy hair growth too. I recommend 5,000mcg a day if you are over the age of 40 and not getting much sun.
Hair Products
It really does matter what you use to wash and condition your hair with. This is where I can hopefully be really helpful because I have reviewed so many brands, and now I have my favorites. Here are some of them.
DIY
You can so save money on masks for your hair. While I recommend splurging on shampoo and conditioner, I recommending DIYing  hair masks and Hot Oil Treatments.
And if you have seriously thinning hair, you might want to check out this super inexpensive, and very effective scalp treatment.
Stress Less!
This might sound silly, but honestly stress does affect hair growth. And if you think about it, why shouldn't it? Stress affects all of our bodily functions, and thus hair growth is no exception. Join my Meditation For Beginners Facebook group to meditate with me every day.
Get Rid Of Chlorine
Since I switched to a whole home water filtration system, where the chlorine is removed, my hair become about 40% less dry. If you can't have a whole home system, at least grab a shower head that removes chlorine. It will make a huge difference.
---
Thank you to Natrol for partnering on this sponsored post, all opinions are my own.