You are going to love my DIY Vitamin C + Ferulic Anti Aging Serum for Face & body! My Vitamin C serums have come a long way from my first version back in 2008. Back then I didn't have access to key ingredients that I needed. So, I used what I could find in the health food store, but it didn't perform as I'd hoped. Since then, I have a bunch of different DIY Vitamin C serum versions on YouTube. Each one is better than the last! However my latest DIY Recipe For Vitamin C + Ferulic Anti Aging serum is the best to date:-)
In my book, Gorgeous For Good, I explain (in great detail), why Vitamin C is so important for keeping your skin looking young. It helps to build elastin and collagen, and it protects against sun damage. It's also a gentle exfoliator in the "acid" category. You are going to go bananas over my latest DIY for Vitamin C + Ferulic Serum for your face & body!!
Different Kinds Of Vitamin C
There are many different versions of "Vitamin C" available to use as an ingredient in a DIY Vitamin C Face & body serum or cream. I've experimented with many of them. However, the gold standard as far as efficacy is concerned, is L-Ascorbic acid. L-Ascorbic Acid is the most potent because ALL forms much convert to it in order to be active. That's why I've used L-Ascorbic Acid in my DIY Recipe For Vitamin C + Ferulic anti aging serum.
L-Ascorbic acid serums ideally need to be formulated at around a level of pH (3-3-2) where it can be active as well as less irritating. The problem with many store bought serums, is that they formulate at a way lower pH in order to stop the ingredient from oxidizing. But this can make the serum way too irritating to your skin.
L-Ascorbic acid is unstable. This means that it oxidizes quickly. And this is the reason why I love DIY it! I can make it regularly, and thus ensure a fresh, efficacious formula. And this is exactly why I created this DIY recipe for Vitamin C + Ferulic anti aging serum.
Ferulic Acid
I decided to create this DIY Vitamin C Face & Body serum with Ferulic Acid (as in the legendary Skin Ceuticals serum), because Ferulic acid is a potent antioxidant, which will help your L-Ascorbic acid from oxidizing. I have also used hyaluronic acid to add moisture to the serum.
Face & Body Serum
I created this DIY Vitamin C face & body serum because I primarily wanted a face and body serum. The truth is that the skin on my hands, arms and chest looks way older than the skin on my face. This is because I have taken such good care of my face for the past 20 years, but not so the rest of my body. I couldn't afford to slather expensive products all over my body. And even when I made my inexpensive serums, I just didn't think to apply to my body too!
A nasty comment on a video, saying how old my arms looked compared to my face got me thinking. The comment hurt my feelings, but it was true. So now I'm committed to taking care of the skin on my body in a whole new way. And my DIY Vitamin C + Ferulic Acid serum is the answer!
The Concentration Is Important!
The concentration of the L'Ascorbic acid in your serum is very important. It ideally needs to be at around 20%. However, this could be too strong for those with sensitive skin. The recipe below is formulated at around 20%. If you find that it's irritating, just dial down the amount of L'Ascorbic acid by half. You can then slowly build up as you skin becomes used to it.
I don't recommend using L'Ascorbic Acid on irritated, broken, or highly sensitive skin. It's just too harsh. You are better off using a more gentle form. Check out a budget friendly (and gentle) Vitamin C Moisturizer by goPure.
pH Testing
Your serum should have a pH of about 3. 7 is considered neutral. I purchased some handy pH testing strips from Amazon to test my serum. While this isn't necessary, it's fun to experiment with.
You can also test to see if the pH changes after a couple of weeks. This is a good way of seeing if your serum is still effective. But one of the easiest ways to tell if it's oxidized, is to see if your serum has changed color. It should be opaque white. If it turns yellow, you need to toss it and make a fresh batch.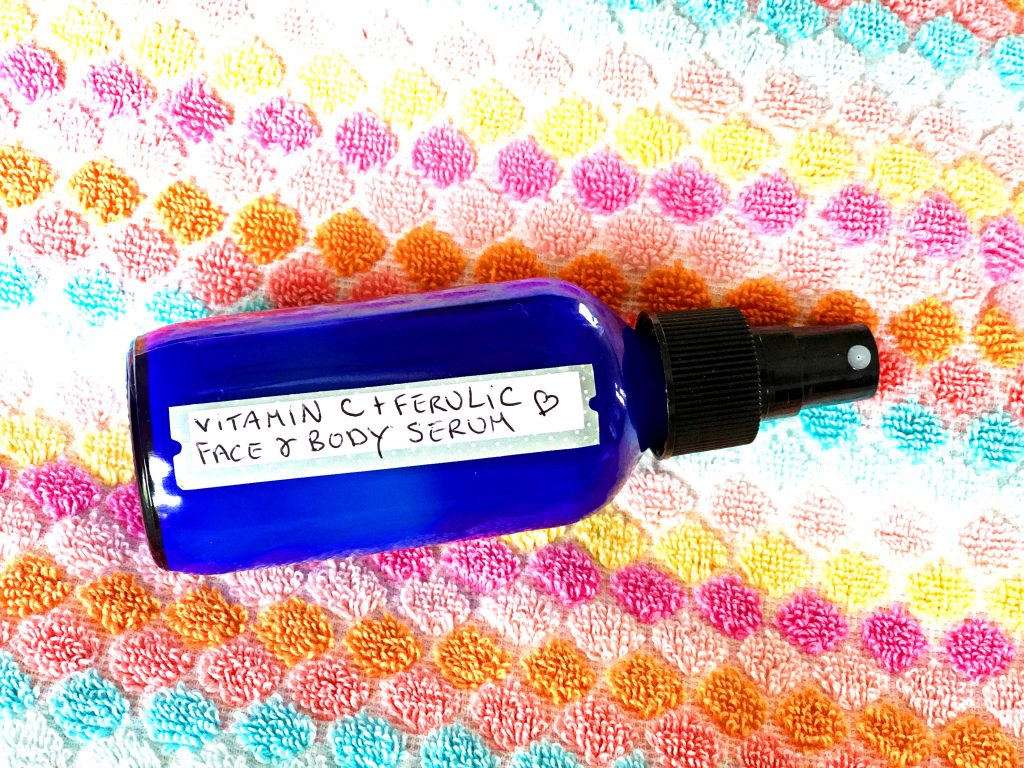 The Recipe
Ingredients + Supplies
A small blender (I like the Nutri Bullet)
4 ounce dark glass sprayer bottle
1/2 cup distilled water or rose hydrosol
4 tsp L-Ascorbic Acid
4 tsp Ferulic Acid Powder
1 tsp veggie glycerin
1 tsp Vitamin E oil (optional)*
1/2 tsp Hyaluronic Acid powder
60 drops of Leucidal Liquid (preservative)
*The Vitamin E is optional because not everyone wants to put oil on their face.
Instructions
Sterilize the bottle, blender and all equipment by running through a hot dishwasher cycle, or submerging in boiling water.
Place the water in the blender cup.
Mix in the L' Ascorbic Acid and Ferulic Acid
Add the glycerin and preservative.
Quicky mix in the hyaluronic acid powder (you have to work fast here!)
Screw on top of blender and blend for a few seconds.
Use a funnel to transfer into your bottle. Shake well.
Place in fridge for 2 – 3 hours.
Remove from fridge and shake well.
Storage
You can store in a dark cabinet for up to 3 weeks. I recommend making a fresh batch every 2- 3 weeks. For longer shelf life (4 weeks), keep in the fridge.
Application
I like to use my serum in the morning. I apply as soon as I'm out of the shower. You can apply to your face and your body. I pay particular attention to my neck, chest, and arms.
I hope you enjoyed this recipe. Check out some of my other DIY's, and make sure you subscribe to my You Tube channel for bunches of new and exciting DIY's and recipes!
Tip: Wash hands after using because the L'Ascorbic Acid can yellow your fingernails. This doesn't happen with everyone, but take that precaution just in case.