This is the year of cauliflower mash. It has eclipsed mashed potato as the ultimate comfort food because it's just as delicious, but half the calories. I could honestly eat it everyday of the week. Cauliflower is chock full of nutrients. It's an excellent source of vitamin C, vitamin K, folate, pantothenic acid, and vitamin B6. It is a very good source of choline, dietary fiber, omega-3 fatty acids, manganese, phosphorus, and biotin. Additionally, it is a good source of vitamin B1, B2, and B3, the minerals potassium and magnesium, and protein.
I recommend you try to eat a couple of servings of both raw and cooked cauliflower a week. Raw cauliflower confers specific health benefits, and does gently cooking it. The only rule is NOT to overcook it.
My Cauliflower Mash with Turmeric Breadcrumbs is likely to be a hit with everyone.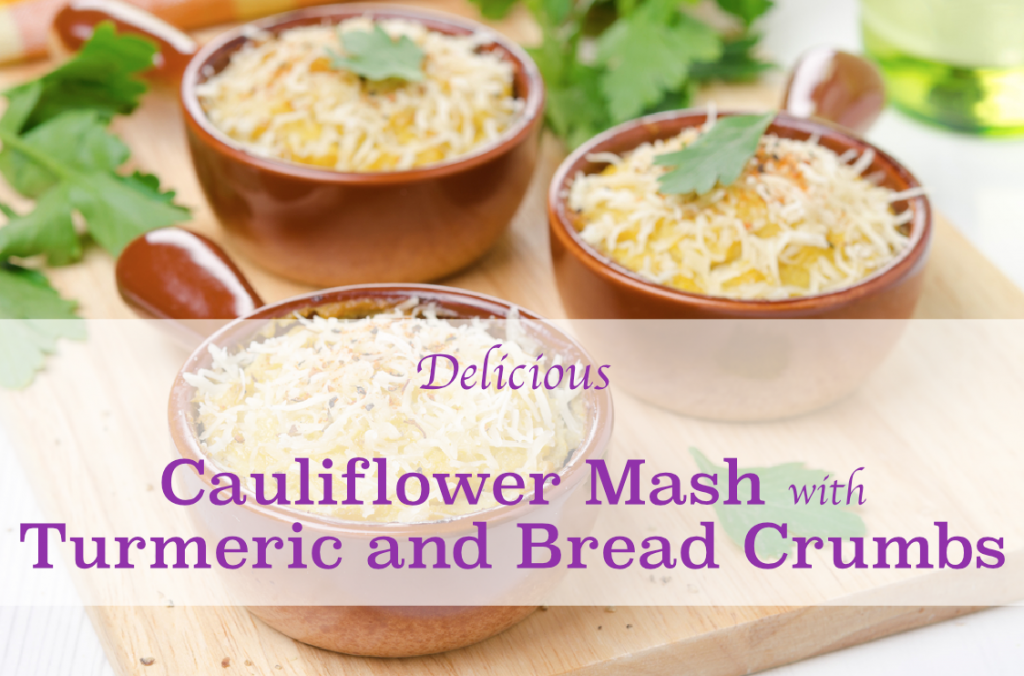 Ingredients
1 large cauliflower head, outer leaves removed, and cut into small chunks (walnut size pieces)
2 tbsp Earth Balance Buttery Stick
1 tsp sea salt
1/4 tsp ground pepper
2 garlic cloves, peeled, blanched (dipped in boiling water for 1 minute) and chopped
2 cups GF breadcrumbs
2 tbsp olive oil
1/2 tsp turmeric
1/2 tsp smoked paprika
1 clove garlic, minced
1 cup vegan Parmesan Shreds (or non vegan if you prefer)
1 tbsp chopped parsley (optional)
Instructions
Steam Cauliflower for 3-5 minutes. It should be just tender (but still firm).
Remove from heat, drain any excess water, and place back in the pan.
Mash with a potato masher.
Add the seasoning, and place in a blender (or use an immersion blender) to blend into a thick puree.
Pour into a casserole dish or individual ramekin dishes.
Prepare the topping by mixing all the ingredients well, in a small bowl.
Cover the puree with the topping.
Sprinkle with Parmesan Shreds.
Bake in a low oven (350) for 15- 20 minutes.
Place under grill to brown the crumbs for last 2 minutes of cooking.
Tip: You can make this ahead of time, and leave the baking part until just before your meal.