Self Care
Self care has become such a huge buzzword of late. But what does it really mean? In my opinion, self care isn't just a mani/pedi and a sheet mask. It's not even about a day at the spa (nice but effects are short-lived). Nooooo – self care is about taking care of yourself so that you can prevent disease and unhappiness. It's about taking responsibility for your own health care. If you don't do it, no one else will. It's about taking back the reins, and understanding that it all starts with small actions that you can implement today. This is why I asked the resident healer on my wellness retreats, Valohna Wynn, to share her favorite 4 Self-Care To Heal Your Life. These are self care techniques that you can try at home today.
Valohna Wynn is an extraordinary healer. We found each other a couple of years ago on one of my desert wellness retreats. I wanted to give attendees a sound bath experience, and rumor had it that Valohna Wynn was the best!
Deep Inner Healing Work
Valohna came along and created a beautiful healing space for attendees to do their inner work. This work is the crux of all of my retreats. As a holistic nutritionist, I love to teach all the lifestyle changes that make our lives better. My passion is nutrition, and when you work with me, you will learn how to prevent and even reverse disease through the power of food. However, the deep inner work is what truly moves the wellness needle. And this inner work is the only thing that creates lasting change.
Releasing Negative Beliefs To Heal Your Life
Most of us self-sabotage. We build a wall around ourselves. And baked into each brick is a hidden negative belief. Even if you are pretty self-realized, I'm going to bet you still have a few old bricks making up this invisible wall.
I've learned many spiritual truths from all the mentors and healers that I've worked with over the years. But perhaps the most powerful is that I need to dissolve this wall of negativity if I am to heal and move forward in my life.
What's Holding You Back?
One of the first questions that Valohna and I ask retreat attendees is this: "What is holding you back?". This isn't a quick and easy question to answer. It takes some quiet time and journaling to hit on some of those core beliefs. But when you uncover them, it's magical. Shining the light of awareness onto a hidden belief is the key. And the next step is to learn the techniques to let go of these beliefs, and replace them with ones that support you.
4 Self Care Techniques To Heal Your Life
Valohna and I came up with 4 self care techniques for personal transformation that you can do at home. You can watch us chatting about them in more detail here.
Take Your World With You: Wrap an imaginary bubble around yourself as you go out into the world. There's always going to be negative stimuli. The key is to accept this so that you don't move into victim mentality. But instead, take responsibility for shielding your own precious energy.
Create A Sacred Space: You can create a sacred space at your desk, in a chair you sit in every morning, or even in your car. A sacred space doesn't have to be a meditation room filled with crystals. Allow your senses to be stimulated by objects that are meaningful to you: A flower, a leaf, a view out of a particular window, mala beads, a crystal, a special gift etc. My bestie, Kym, has a very special sacred space – it's a stump of a tree in her backyard. She likes to sit or stand on this stump and feel supported by the God of her understanding. She has projected her meaning of what's sacred into that beautiful stump of a tree.
Finger Testing: This is where you test your kinetic energy systems. I'm on the fence as to the validity of this in my own life. But many friends of mine swear by the the efficacy of this simple technique. Watch the video 4 Self Care Techniques video that I did with Valohna to see how it's done.
Mirror Work: This is so powerful. I can be scary to stand in front of the mirror and REALLY look into your eyes. The idea is that you see beyond the your body with all its imperfections. You are staring at spirit. And you get to ask your spirit a number of powerful questions.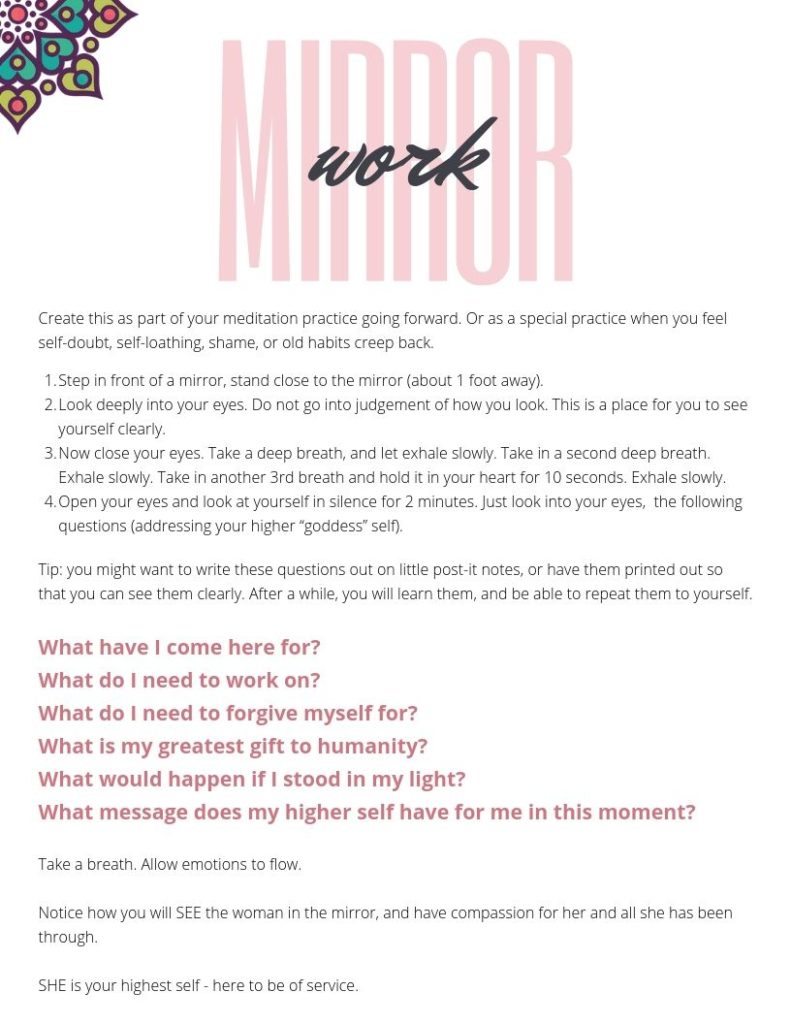 Try this mirror work today!
Wellness Retreats To Heal Your Life!
Why not join me at my upcoming wellness retreat? It's at the legendary Rancho La Puerta Sept 11th – Sept 14th. Please email my beautiful retreat organizer, Tammy at tammy@myretreatsunlimited.com She will answer any questions, and let you know about any special offers we have running.
You might also be interested in my next Virtual 21-Day At-Home Wellness Retreat in October! You can "retreat" from the comfort of your own home to do daily yoga, meditation, and journaling. I also give you a 21-day meal plan, teach you about nutrition, and much much more. Hop on the waiting list now.