Ridiculous guys! This is SOOOOOOOOOOO good. Please give it a whirl, because you'll never look back. Remember that Tuna contains a lot of mercury. Ahi is the worst, followed by Albacore, and then your canned chunk light. So dial back on the sushi if you do eat fish, and better still, look for delicious vegan options like my Vegan "Tuna Melt".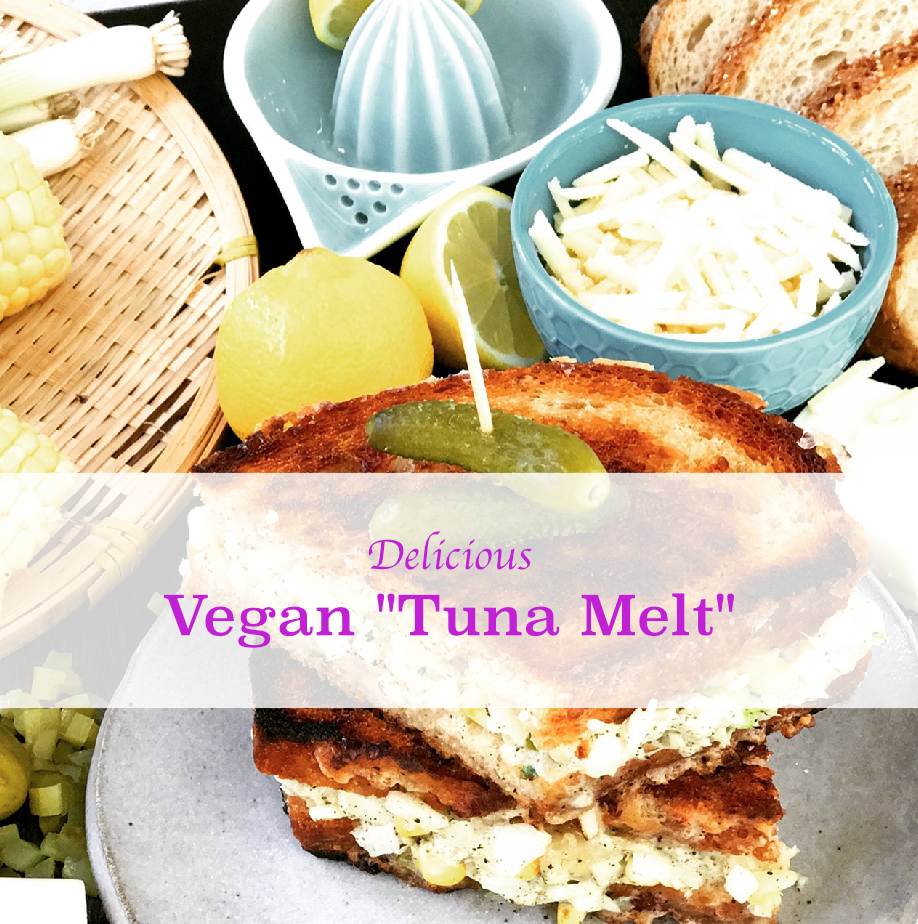 Ingredients
Serves 2
Half a sheet of nori, roughly torn
1 c of hearts of palm (14oz), drained and roughly chopped
1 1/2 tbsp vegan mayo (I like Sir Kensington's)
Juice of 1 lemon
1 tsp sea salt
1/2 tsp ground pepper
1 scallion, finely chopped
1 large dill pickle, finely chopped
1/2 c sweet corn
4 slices of whole wheat sour dough bread
2 slices of Follow Your Heart vegan cheese slice
1 tbsp vegan spread – like Earth Balance or Melt
Instructions
Before you begin – Toss the nori sheet in a food processor and pulse until its the consistency of large grains of sand
Add the hearts of palm and pulse 2-3 times, maintaining consistency (be careful not to over blend – your goal is to have a tuna fish-like consistency)
Add vegan mayo, lemon juice, salt and pepper and mix with two small pulses
Remove food processor blade. Using a spoon or spatula, fold in finely chopped scallion, finely chopped pickle and sweet corn.
Spread one side of all slices of bread with Earth Balance.
Lay them out spread side down, and heap approximately 3 tbsp of filling onto each slice. Add a slice of vegan cheese. Cover with other slice of bread.
Heat 1 tbsp of Earth Balance (or oil) in skillet, place sandwich in oil. Cook on each side until lightly browned (about 3 minutes on each side). It helps to press down with a spatula.
Remove from heat, slice diagonally, and enjoy!