This is my favorite healing, cleansing, and detoxifying Winter soup. It is warming, spicy, and so satisfying that you'll want to make a massive batch, and freeze half of it. My Turmeric Carrot Lentil Soup is a great way of getting a shot of beautiful anti-inflammatory and anti-oxidant compounds into your lovely bod!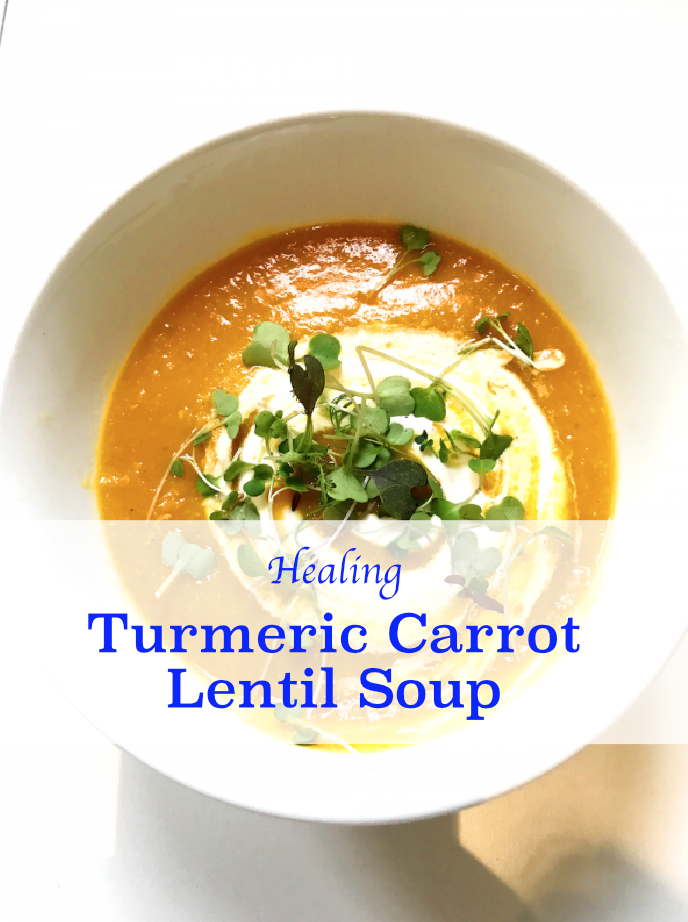 Ingredients
Serves 2
1 tbsp grape seed, avocado, or coconut oil
1 medium onion, minced
3 garlic cloves, minced
1 inch ginger root, peeled and minced
1 inch turmeric root, peeled and minced (or 1 tsp ground turmeric)
1 tsp ground cumin
1 tsp sea salt
1/4 tsp ground pepper
4 large carrots, washed and chopped
1 cup red lentils
4 cups veggie broth
Micro greens or parsley for topping
Cashew cream
1 cup soaked raw cashew nuts
1 cup filtered water
1 tbsp lemon juice
2 tbsp Nutritional Yeast
Salt and Pepper to taste
Dump all ingredients in a blender, and blend until smooth.
Instructions
Heat the oil in a large skillet
Add the onions and fry until soft
Add the garlic, ginger, turmeric and seasonings. Fry for a further 3 minutes over a low heat.
Add the carrots and lentils
Add the broth.
Cover the pan, and simmer for 15- 20 minutes.
Use an immersion blender, or regular blender to blend. If you use a high speed blender, be sure to remove the insert in the lid and cover with a dish cloth to avoid the whole thing exploding!
Serve with a swirl of cashew cream, and top with micro greens or chopped parsley.