My mini eucalyptus & pine beeswax candles are a must-do DIY for the Holiday season. Eucalyptus and Pine essential oils are both highly anti-viral. So, when you burn your candles, these oils will be released. Moreover, beeswax in of itself is an air-purifier.
I have used mini tart tins as a unique way to create a perfect little Holiday gift. Bundle three of these tiny candles together with a sprig of eucalyptus or pine, and pretty burlap ribbon, and you'll have a gorgeous little package to present to anyone.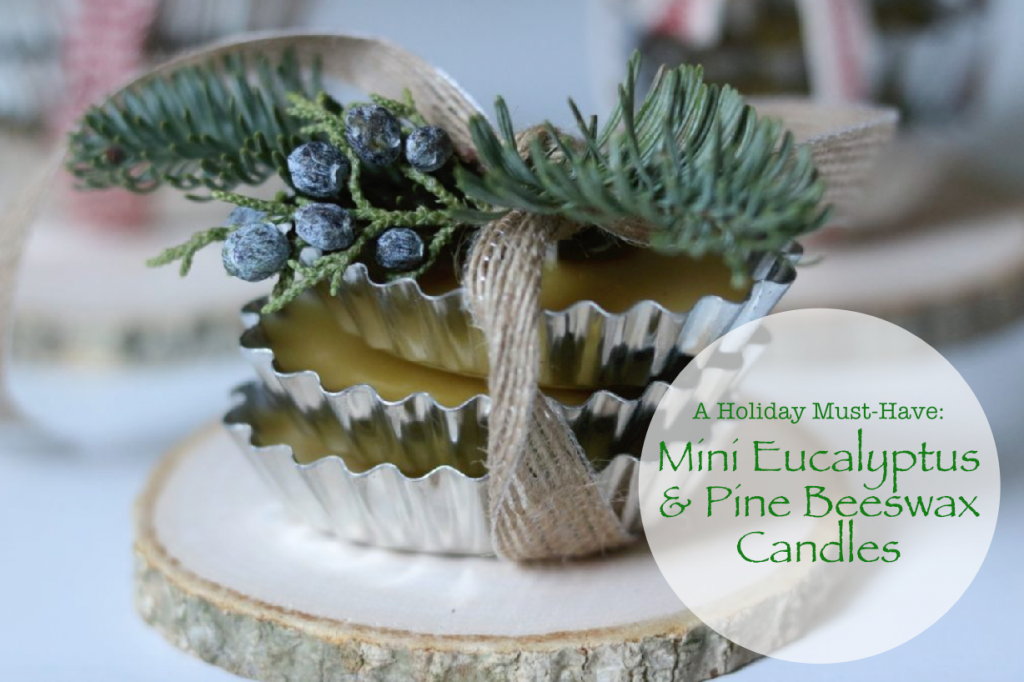 Ingredients
1.5 cups beeswax pellets
3 mini tart tins
3 wicks
1 tsp Eucalyptus Essential oil
1 tsp Pine Essential oil
Burlap ribbon
Sprigs of Eucalyptus, pine, or anything seasonal and pretty
Instructions
1. Heat the beeswax in a double boiler until it melts
2. Meanwhile, cut each wick to about 1inch in length.
3. As wax is melting, dip the metal plate at the base of the candle wick into the wax, and then set it in the bottom of the tin. This will make it stick.
4. When wax has melted, remove from the heat, and add the essential oils (1 tsp of Eucalyptus and one of pine) to 1.5 cups of melted wax.
5. Carefully pour the wax into the tins.
6. Allow them to set up for about 2 hours.
7. Snip off wicks to about 1/8 inch
8. Stack three tins together and bundle with burlap or Holiday ribbon, and decorate with anything that makes them look seasonal and gorgeous. I like to use sprigs of fresh Eucalyptus and Pine to reflect the oils I have used.
Tip: Since you don't really smell the essential oils until the candle is burned, I recommend dotting a few drops of your essential oils onto the ribbon to make the gift smell festive.