Sunflower seeds are often thought of as a poor cousin to trendier seeds such as hemp and chia, but they should be cracked out of their tiny black and white shells and be given the praise they deserve! They are full of healthy fats, which actually help to reduce your bad cholesterol. They are are also loaded with Vitamin E, which is excellent for your skin, and they pack a hefty protein punch. But, all these health benefits aside, I created my Super Sunflower Seed Butter primarily for those who are allergic to either peanuts or tree nuts. So many of you have messaged me saying you can't do all the recipes I create that contain almonds and cashews. So now everyone can enjoy this delicious, "nutty" tasting spread.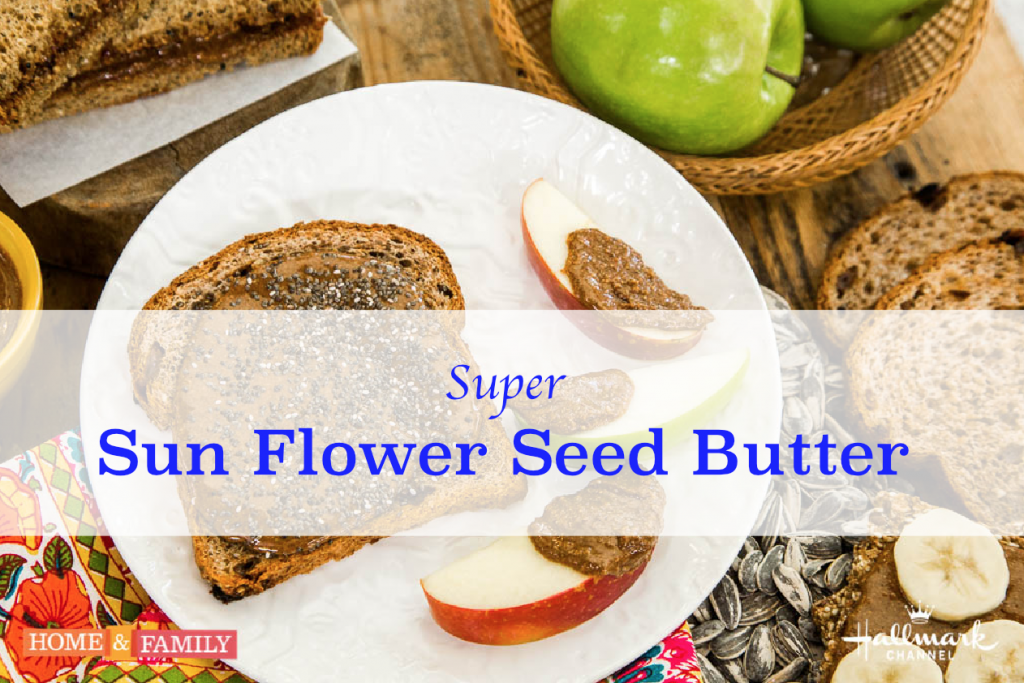 Ingredients
3 cups raw shelled sunflower seeds
1/4 cup coconut sugar or maple syrup If you want to go sugar free, sub with Erythritol.
1- 2 tbsp Sunflower Oil (depending on how creamy you want it to be).
Pinch of pink Himalayan sea salt or other fine sea salt, to taste
1 tbsp raw cacao powder
1/2 teaspoon cinnamon
1 teaspoon pure vanilla extract
1 vanilla bean, scraped out (optional)
1 cup mini Enjoy Life chocolate chips (optional)
Directions:
Preheat oven to 325F. Line a large baking sheet with parchment paper and spread on the seeds in an even layer. Roast for 9-12 minutes, until some of the seeds are lightly golden. Cool the seeds for a few minutes before using.
Meanwhile, add the sugar into a high speed blender and grind until a powder forms.
Spoon the toasted seeds into a heavy-duty food processor. ( I use my Breville Sous Chef)
Process the seeds for a few minutes, stopping to scrape the bowl every minute. It will look dry and powdery at this stage.
Add the oil and process for another couple minutes. The butter will clump together into a large ball and it'll start rattling around for a bit. Then, the ball will eventually break down into butter again. Stop to scrape down the bowl as needed.
Add in the ground sugar, salt, cacao and cinnamon. Process for another few minutes until smooth. Add the vanilla while processing. Add in the vanilla bean seeds, if using. You can add a little more oil if you need to thin out the butter. I like to let the machine run at least another 2 minutes to get the sunflower seed butter super smooth. I process for a total of about 8- 10 minutes, but timing will vary based on your food processor and preference. If you have a slower processor, you may need to process for up to 15 minutes.
Finally add the choc chips if using and pulse the processor once or twice.
Transfer the sunflower seed butter into an air-tight container.
Store in the fridge for up to 8 weeks.
Storing your Nut and Seed Butters: Nut butters will keep for several weeks in a glass jar with a cover in the fridge. You can also freeze nut butters for up to 4 months.
You can make a quick nut milk by blending about a tablespoonful of this  butter with a cup of water.
Serving them: I recommend spreading them on Mary's Gone Crackers crackers. They are so crunchy and provide the perfect base for your creamy butter.