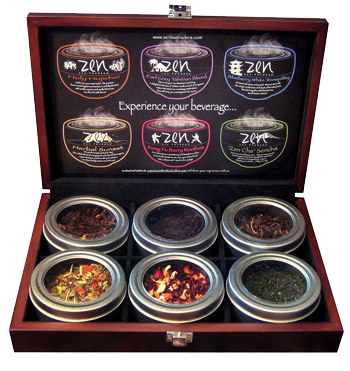 You know me – I am SO SO SO into tea! I love every kind of tea, too – from African Rooibos to the finest green teas, bring them on! However, all teas are not created equal, and that's the really important thing to grasp if you are into buying teas. First off, if you are serious about tea, you need to buy loose tea, rather than tea bags because the tea in tea bags is typically the worst quality. Also, when you use loose tea and let it percolate for the correct amount of time in a tea pot or tea glass, the leaves can have the room to unfurl and disperse their subtle flavor and nutrients into the water.
Anyway, I was lucky enough to test Zen Tea Traders selection of loose tea, and I'm obsessed. The quality is top notch, and the blends are SO unique: The"Zen Cha" sencha is a bright, grassy green tea, which is perfect to drink all day. The "Blueberry White Tranquility" gives you the highest concentration of polyphenols (anti-oxidants,) while imparting a sweet, fruity (but totally natural,) flavor. "Herbal Sunset" is the perfect relaxation tea, which I love to sip before bedtime – it contains soothing lemongrass, and rose hip. And finally, I tested the "Earl Grey Tahitian Blend," which is sublime because the vanilla pairs so beautifully with the Bergamot.
Anthony Capobianco, founder of Zen Tea Traders knows his stuff. His passion for tea has taken him all over the world in search of the finest teas. The key according to Anthony, is that the tea is fresh. Unlike many tea companies, he doesn't keep stock standing around for months. He insists on the freshest whole leaves, and then crafts his blends by hand. Anthony also knows that it's essential that you brew your tea in the correct way: the water temperature and the steeping time is essential when it comes to brewing the perfect cup, and so Zen Tea Traders supplies all these important directions on the packets, and on their website.
Kudos to Zen Tea Traders for creating such delicious and healthy tea blends. Unlike some of the more well-known tea brands (often in malls), I appreciate that every fruit, herb, and flavor used is completely natural – I'm just not into artificial flavored tea because it overwhelms the subtle taste of the tea itself.
If you are thinking about giving up coffee this year, but still want a beautiful smooth delivery of caffeine, you might want to set out on a path of tea discovery. I started a few years ago, and there's no going back for me!