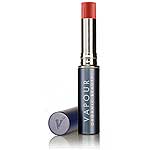 I'm all excited about the new Vapour Organic Beauty Spring Colors. The new Siren lipsticks are just fantastic. Siren is a naturally long-wearing, moisturizing lipstick in sixteen gorgeous shades. It's designed to flatter to all skin tones and nourish parched lips in style.
The pure plant ingredients are vacuum processed, without chemicals, to produce a moisturizing shine that rivals the performance of its mainstream counterparts. That's why Editor's at Lucky and Allure rave about Siren!
Siren is made with 70% Certified Organic ingredients and 30% natural mineral pigments & vitamins. Siren is designed to protect lips from moisture loss and environmental assault. Siren's NEW botanical infusion contains hydrating Myrrh, Rose buds, healing Lemon Balm – ooh rather lovely!