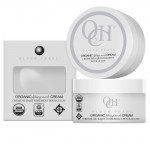 The ancient Chinese women have passed on few pearls of wisdom! A beauty secret of theirs and one that is still used in Chinese medicine today, is that of using crushed pearls in skin care products. It's a compound called Nacre in the lining of the Oyster shell and in pearls, that is very rich in amino acids, and which gives the pearl it's beautifying properties. Renowned for helping to create smooth, pale and lustrous skin, natural crushed pearls were used by the wealthy.
Nowadays, of course, natural pearls are not crushed up into skincare – they are used exclusively for jewelry, however, freshwater pearls have the same beautifying benefits and are used in skin care. If you would like to try a line that is certified Organic, and which contains only beautiful and nourishing ingredients, O2CH is a great product. I gave a sample to a friend of mine who was freaking out about her "sagging neck" and she now swears by it and wants to slather it over her entire body?
You can choose from a day or night creme, a neck creme, a fabulous mask and a cleanser. oh and a head's up, which I hope you don't miss – Saturday 25th Feb, there is a special sale on O2CH products in my Open Sky store.