I test a LOT of skin care products. It might seem like a fun (if not enviable) job to do. But, it's not always a blast, because I like to give products a fair trial, and to do this I really have to focus by religiously using the product everyday for a certain period of time. Otherwise it's hard to really ascertain if there have been any notable results.  Neal's Yard Remedies, which have recently launched the NYR Frankincense Intense Lift Serum and Cream at Credo Beauty, asked me to officially test these products as part of their #AgeWell campaign. I jumped on the opportunity, not just because I've loved Neal's Yard Remedies for close to thirty years, but also because I've always been a big fan of frankincense!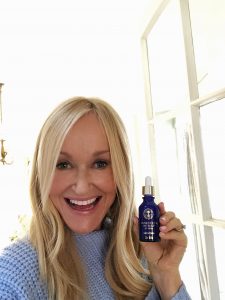 But before we go any further, let me be clear that I am not ANTI aging!! For goodness sake, we're all going to end up with wrinkles and skin that is well… let's just say a little on the loose side. Unless we have extensive surgery and/or odd-looking fillers, it's gonna happen. And even the surgery/filler route can't really hide what's actually going on because it rarely looks right – there's just something that looks a bit off. I'm not against any kind of cosmetic tweak that you might want to try – GO FOR IT! However, I also think that one of the most anti-aging attitudes you can take is to make peace with the natural process that's occurring, because it's going to happen to the best of us. Resistance always makes things worse.
Nourishing, self care morning and night rituals, however, are soothing and beautiful for not just our skin, but our body and soul too. And this is where my review of the NYR Frankincense Intense Lift products begins. I have so enjoyed my ritual of layering these divine-smelling, velvety products onto my face morning and night. This road test has been a pleasure.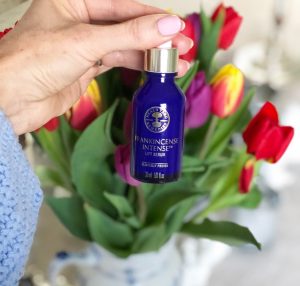 I begin by massaging the gel-like serum into my face, neck and chest. It takes a couple of minutes to absorb, so I get on with futzing with my hair while it does it's thing. Then I slather on the luxurious cream in the knowledge that both products are crammed full with sustainably-sourced (VERY important) frankincense.
It's honestly really hard to tell if my skin looks better after 6 weeks of using these products because I don't measure wrinkles! Moreover, my perception of my skin and how it looks is entirely dependent on my mood that day. However, my mum commented on how lovely my skin looked when I got off the plane in London – WHAAAAAT?? Yes, she did! And you know how awful one's skin usually looks after a 10-hour flight.
I don't notice any difference in my crow's feet, which I've decided to call dove's feet because it sounds prettier. And I actually love my dove's feet because they're exaggerated when I smile. Whether or not the cream has "lifted" my skin is debatable, and to be honest, I'd be amazed if any cream on the planet could act against gravity and loose skin! But, the biggest result is that my skin feels lovely. It feels soft, nourished, deeply moisturized, and healthy. And, that makes me very happy.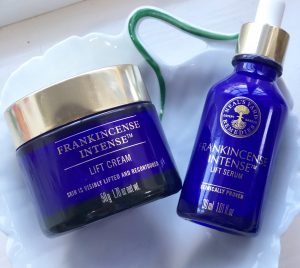 Would I carry on using these products beyond the 6-week test? Absolutely! And that can't be said for 80% of the products I try. Would I recommend them to my nearest and dearest? Absolutely. Moreover, the cobalt blue glass packaging is so beautiful that I'd quite like to gift my nearest and dearest with a set. And maybe I will!
So, how to get your hands on these amazing products? Well, you can definitely start here! But, if you have more questions, the products are available through credo and NYR Organic Independent Consultants!
Oh, and one tip that they don't mention – Try to use a spatula to scoop out the cream. Creams can become contaminated with bacteria if you keep on dipping your finger in. So, grab some of those wooden spatula things from the coffee shop when you're next in there. Or raid your children's craft box for popsicle sticks, and keep a stash in your bathroom cabinet.
---
Thank you to Neal's Yard Remedies for partnering on this sponsored post, all opinions are my own.