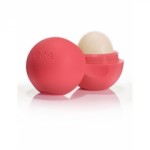 I'm rather taken, as is my daughter with these new spherical lip balms by EOS. They are 95% organic, 100% natural, and  petrolatum & paraben- free.
Packed with antioxidant-rich vitamin E, soothing shea butter and jojoba oil, they keep lips moist, soft and sensationally smooth. The shape is wonderful for application, especially for little fingers, who often find tiny lip balm tubes hard to open. My daughter insists that the container doubles as an eraser too – I'm not so sure about that, but either way – they're pretty cool.
You can find them at most major drugstores and at Target.