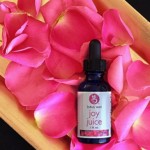 Flower vibrational essences are big in England and have been for years. They are used to facilitate different positive effects in the body and mind.
With
Lotus Wei Flower Essences
, you can experience more happiness, clarity, and calm within days with their six flower and gem elixirs: Joy Juice, Inner Peace, Infinite Love, Quiet Mind, Inspired Action, Pure Energy
Gathered from around the world from special places
by hand, they combine special flowers and gems that
are most effective for what people need today.
For best results, enjoy five drops of flower elixir under
the tongue a minimum of five times each day, until the
bottle is completely finished. Each bottle lasts around
3-4 weeks.
They'll even send you your money back if you don't experience the effects promised after finishing a bottle. Hmmmmm – I'm going for the Joy Juice!