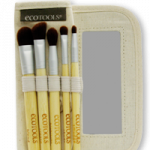 I have a ridiculous number of cosmetic brushes – I just seem to have collected so many over the years and never want to throw them away. I'll periodically do a huge cosmetic bag "sort out", where I lay everything I have on my kitchen table, throw away what's old or never-used, wash my brushes, and restore order to what had become horribly chaotic.
Last week, before I took off on a trip to NYC, I decided to get really strict with myself and whittle my brush selection down to only what I used on a daily basis and the brushes that I kept coming back to were my EcoTool bamboo brushes.
You really cannot go wrong with their Bamboo 6-piece eye brush set. It has almost every brush you'll ever need to create a perfect eye, and there's something about the way these brushes are shaped that is quite perfect. The only brush you may need to add is an eyeliner brush, if like me you use a cake eyeliner as opposed to a brush.
I'm so happy that my go-to brushes are eco-friendly, reasonably-priced, and available at most major drugstores Nationwide.