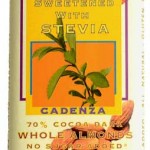 With the holidays coming up, there's likely to be a great deal of chocolate in one form or another crossing your path. I am absolutely delighted by my newest chocolate discovery. I found The Coco Polo Cadenza bar when I was at the Natural Products Expo East a few weeks back. By the end of few hours of trawling the aisles, I didn't want to look at another chocolate sample or chip for that matter, until my sister-in-law grabbed my arm and dragged me over to the Coco Polo booth – I'm SO glad she did.
This is the best sugar-free chocolate I've ever tasted. What is amazing is that it doesn't contain what most sugar-free chocolates contain – sugar alcohols in the form of maltitol or sorbitol. It's sweetened with natural stevia. If you had told me to try a stevia sweetened chocolate, I probably wouldn't because I don't love stevia in it's raw form but the taste of this chocolate is insanely good. It's 70% dark chocolate – so you get all the health benefits and yet it doesn't taste as strong/bitter as most dark chocolate. It has a smooth, creamy texture and comes in 6 flavors – super tough to pick which is best – the Tart Montmorency Cherry bar is beyond!
If you are a chocolate lover, you'd do worse that order yourself a box of bars for the holidays. I intend or order a box for my father-in-law who is diabetic – he'll be sent to heaven.
The bars are also approved by The Feingold Association, so fine for anyone with allergies and/or food intolerance.