SO glad I tested the Christopher Drummond mineral makeup line! What sets it apart from others is that it's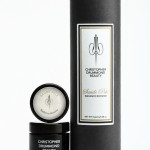 vegan, organic and is made with Brazilian Acai, botanical ingredients, and trace minerals. If your skin ever feels itchy and/or gets irritated after using mineral makeups, it could be because many of them contain titanium dioxide and bismuth oxychloride, which are very irritating to the skin and potentially toxic.
Aside from all this, the actual this makeup performs beautifully. The application of the foundation is all about layering, so you get to choose the kind of coverage you want as you go along. I'm in love with some of the eye shadows and the lip glosses are unique in that they deliver a lot of color that actually stays. The Saude Pele is an incredible product – a powder that for once doesn't look dry or chalky – it's silky and feels as if it melts on your skin. A little goes a very long way – so if you find that this line is a little pricier than others, know that a tiny pot will keep going for long, long time.
The other really awesome thing is that they'll send you little tester pots so you can be sure you have the right color before splashing out.