Moringa has so many health benefits that it behooves us to use it in as many recipes as we can. The easiest way to consume Moringa is in powder form in a smoothie. But I like to bake with it too, so I decided to combo it with my favorite green tea powder to create my Matcha Moringa Waffle.
I have made this recipe gluten-free or whole grain. Keep in mind that whole grains make a much lighter and crispier waffle. Using a gluten-free blend (even the best), can make waffles a little heavy/rubbery. So, unless you are Celiac, I recommend going with a whole grain baking blend
Also, the sugar that you add (in the form of a syrup or actual sugar, like coconut sugar) will add crisp to your waffle too. So, maybe allow this to be your one treat with sugar this week – just not refined sugar.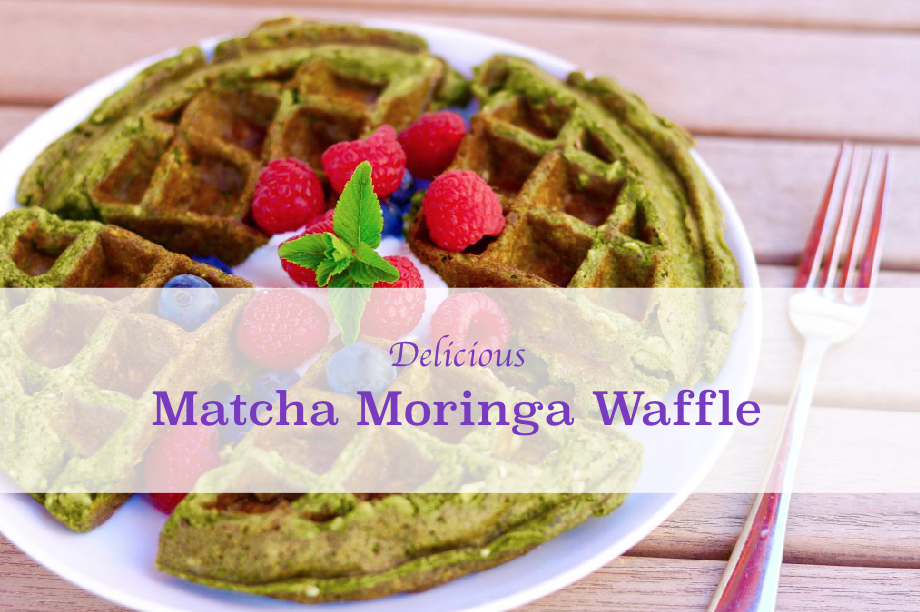 Ingredients
1 1/4 cup almond milk
1 tsp apple cider vinegar
1/4 cup coconut oil
2 tsp vanilla extract
1 3/4 cups of waffle mix (either whole grain or gluten-free is fine) I like Bob's Red Mill Mix best.
1/2 cup rolled oats
1/2 cup of coconut sugar or maple syrup (you could use Erythritol to go totally sugar-free, but it will make your waffle less crispy)
2 tsp Moringa powder
1 tsp Matcha green tea powder
1.5 tsp baking powder
2 tbsp hemp seeds
Topping:
Organic berries
Coconut Yogurt (I sub yogurt for Maple syrup because you get the probiotics, and less sugar).
Instructions
Add cider vinegar to almond milk and leave for 5 minutes
Place all the dry ingredients in a large bowl
Add the wet ingredients and combine well.
Pour into pre-heated waffle iron
Tip: If you are going gluten-free and sugar-free, I recommend you pop your waffles on a baking sheet in the oven (370 degrees) for 10 minutes to crisp them up because they might be a bit floppy straight off the iron.