I am been meaning to make a DIY loofah soap for months. I love the idea of encasing a loofah in a soap because it's a solution to the bacteria issue. Did you know that a loofah sitting in a shower stall is a breeding ground for bacteria? But problem solved with the bacteria-blasting essential oils that I use in my recipe!
I got my Melt n' Pour soap and molds from the wonderful Nature's Garden because they stock the exact kind I was looking for. You can also find your essential oils there, or you can order pure essential oils from Mountain Rose Herbs. Aside from that you just need honey, and a loofah, which you can find online or at a drugstore.
I choose cinnamon essential oil because it's highly antibacterial. I choose orange as it pairs beautifully with the cinnamon. And vanilla to add a hint of sweetness.
In this recipe I show you the amounts for one full size soap. Obviously adjust if you are making a tray of 4 soaps.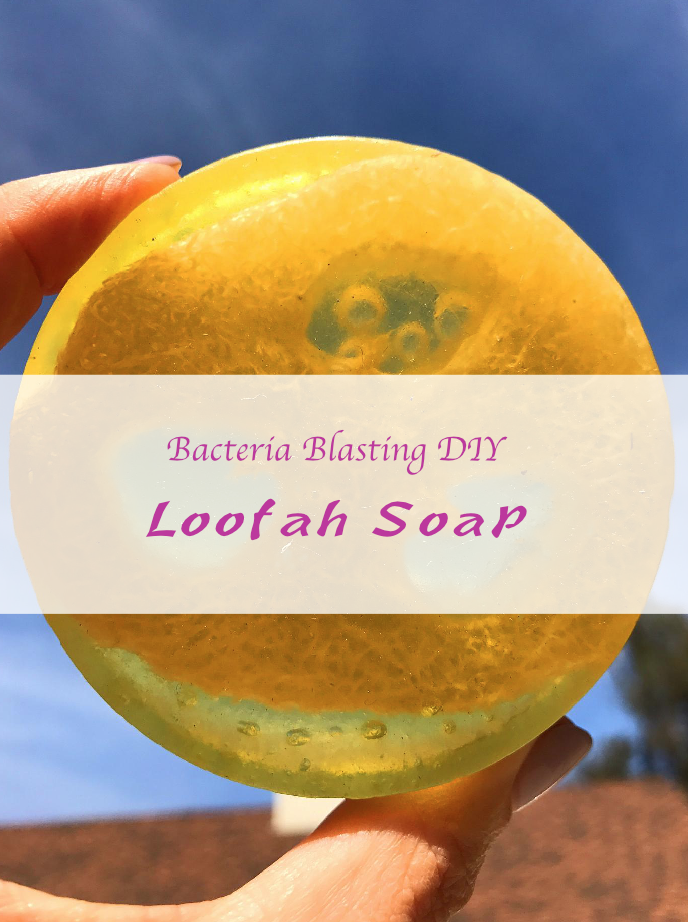 Supplies
Round soap mold/s
5 cubes of SLS-free clear glycerin soap
1 inch slice of loofah (approx this size, but measure the depth of your mold, as you want the loofah to a tiny bit higher than the top rim of the mold
2 tsp honey
15 drops cinnamon essential oil
15 drops sweet orange essential oil
15 drops vanilla essential oil (optional)
Small sprayer bottle containing rubbing alcohol or Vodka
Instructions
Grease the soap molds with whatever oil you have to hand. I use a cheap cooking oil spray
Melt the soap in the microwave in a microwave safe container for 65 seconds
Stir in the honey and essential oil
Fit the loofah into the mold
Slowly pour in your melted soap – the loofah will soak it up, which is why you need to pour slowly
Spritz with alcohol spray to avoid bubbles forming
Leave it to set up for 3-4 hours
Push out of mold
Storage: The soaps can be a bit oily so I recommend storing them wrapped in parchment paper. They will store in a cool, dark spot for up to 6 months. When giving as a gift, I recommend filling a little basket with straw and adding cinnamon sticks.