Curry is the ultimate comfort food. I recommend curry to all of my clients because it's such an easy way to fill up your diet with beautiful seasonal veggies. It's especially a great way to load up your diet with the ultimate health and weight loss food – mushrooms!
Even if your family aren't purportedly huge curry fans, don't give up on them! My husband always says he doesn't like curry, but whenever I make this recipe, his bowl is scraped clean.
Warming Winter Veggie Curry, Serves 2
Ingredients:
2-3 tbsp veggie broth
1 leek, washed, trimmed and finely chopped
1 inch raw ginger root, minced
2 garlic cloves, minced
1 heaping tsp curry powder (you can go heavier if you like, or omit is totally if you don't love curry and substitute with 1 tsp cumin powder)
1 1/2 cups veggie broth
1 large sweet potato, peeled and cubed
2 cups frozen green beans, trimmed
1 cup Shitake mushrooms, sliced (use regular brown mushrooms if you can't find shitake)
1/2 cup raw cashew nuts
Juice of half a lime
A handful of fresh cilantro, chopped
3 tbsp lite culinary coconut milk
A little sea salt and pepper to taste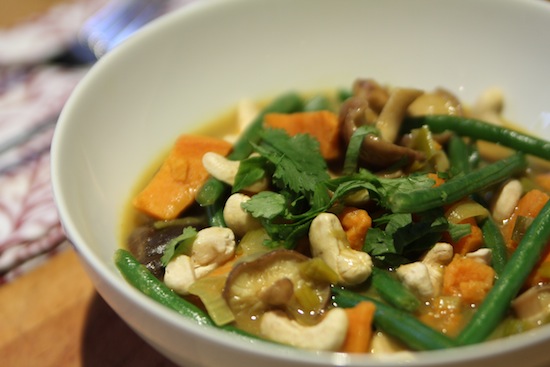 Instructions:
Heat the veggie broth in a heavy-bottomed pan. Add the leeks and saute gently for 3 minutes until softened, add the garlic, ginger, and curry/cumin powder and fry for another couple of minutes. Add the sweet potato and veggie broth. Cover pan and simmer for 8-10 minutes, or until potato cubes are tender.
Add the green beans, mushrooms, cashews, and coconut milk. Cover and simmer for 3 minutes. Season with sea salt.
Spoon into warmed bowls, top with cilantro and a generous squeeze of lime, and serve immediately.