Now we are into the warmer months, I love to create hearty dinner salads, which tick all my nutrition boxes. This Hearty Dinner Salad with Farro, Spinach and Lentils is where I mix cold and warm, sweet and savory, crunchy and soft, because this is what plant-based cuisine is all about…delicious flavors and textures all mingled together.
What about Farro? Farro is a super healthy and  nutritious ancient grain. It's lower in gluten than modern-day wheat, and is full of fiber, iron, and magnesium. You should be able to find it in your local health food store or online. You could sub with quinoa or brown rice, but Farro gives a lot of chewy, nutty texture to this salad.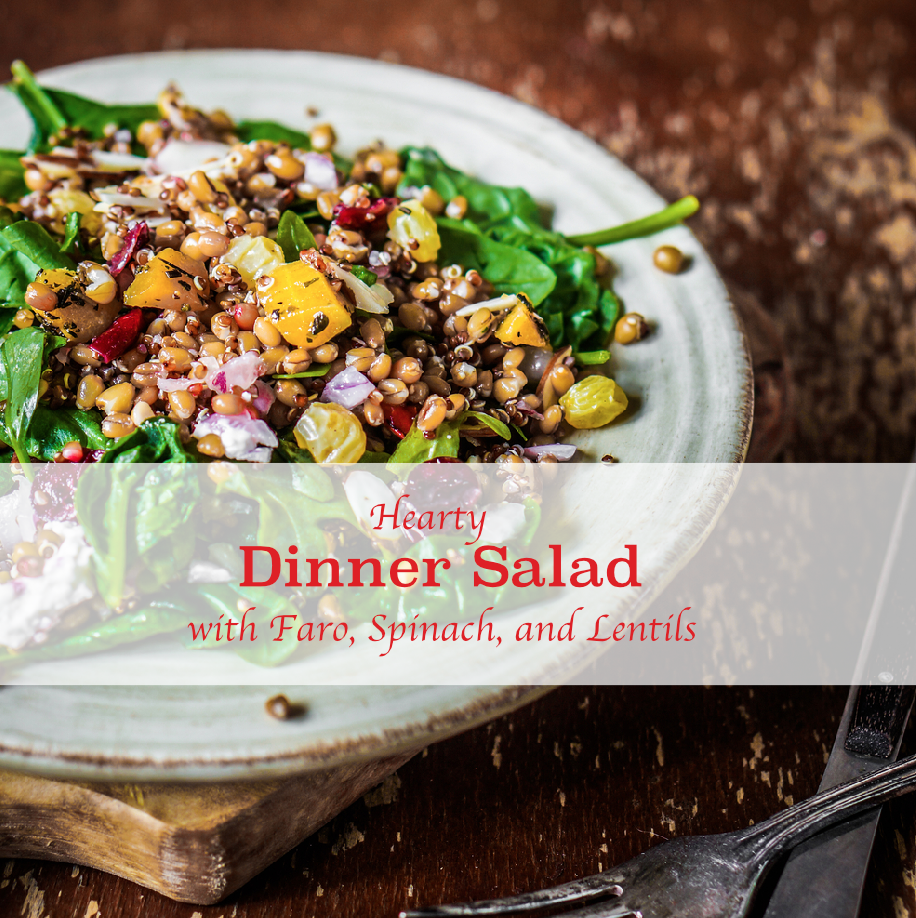 Ingredients
Serves 2
1 cup cooked Farro
1 cup cooked green lentils
1 large sweet potato, cubed (I sometimes use butternut squash when in season)
2 tsp avocado or grape seed oil
Sea salt
1 large scallion, finely sliced
1 head of radicchio lettuce
1 bag baby spinach
1/2 cup of golden raisins (or chopped dried apricots)
Dressing:
2 tbsp avocado oil
1 tbsp apple cider vinegar
1 tsp raw honey (or brown sugar)
A pinch of sea salt
Freshly ground pepper
Instructions
Pre-heat oven to 375 F
Place sweet potatoes in a boil with the oil and salt, and massage well. Spread across a baking sheet, and bake for approx 20 minutes, or until well-roasted.
Place the Farro and Lentils in a large salad bowl.
Add the scallion.
Tear up Radicchio leaves into bowl.
Add the spinach and raisins.
When the squash are out of the oven and still warm, toss them into the salad. The heat will slightly wilt the spinach.
Add the dressing, and toss well.
Serve as is, and if you are really hungry you could have a little warm whole wheat Pitta bread and hummus on the side.