I was busy making women's Valentine gifts on the kitchen table, and my husband came in and complained that I rarely make stuff for men. He went on to suggest that I come up with a natural version of the iconic Old Spice Scent! And, thus I came up with my DIY Soap-On-A-Rope Aromatherapy Balls. And I made a version for Him & Her!
I used Shea Butter Melt & Pour Soap, which is really easy to work with, and after agonizing on what to use as a mold, I came up with a humble tennis ball.
These DIY soap-on-a-rope aromatherapy balls make great Valentine gifts for the girl or the guy in your life. If you want to go super-natural, you could always nix the soap dye and just go for a plain white. This would be beautiful packaged in a natural craft box with cream tissue and burlap ribbon.
You will Need (for 2 soap balls):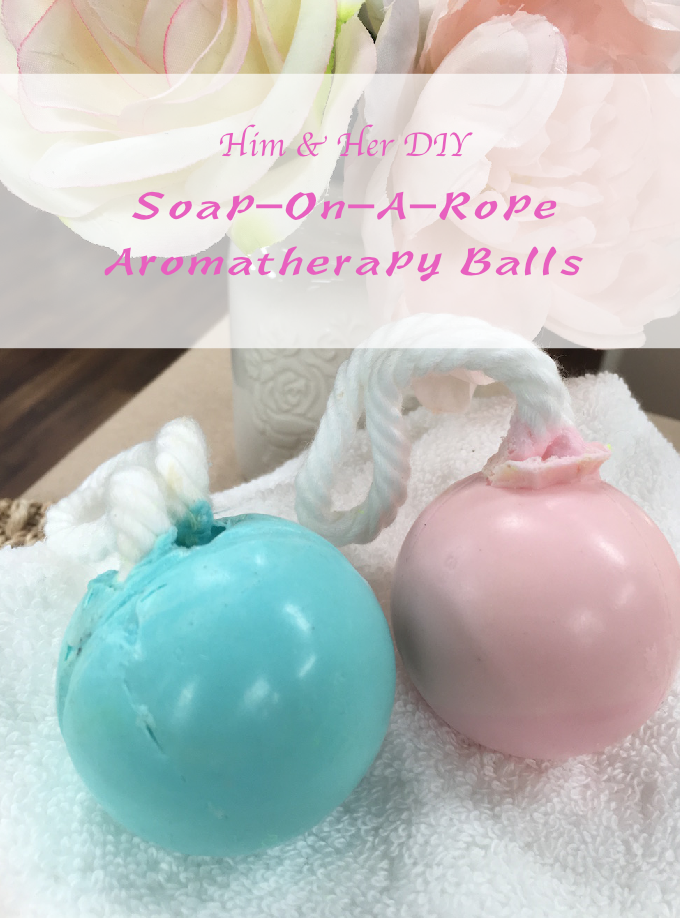 Cotton rope (craft store)
2 tennis balls
Aromatherapy Blend:
Men: 1/4 tsp each of vetiver, sandalwood, bergamot, clove essential oil
Women: 1 tsp gardenia or jasmine essential oil.
10 squares of Shea Butter Melt & Pour soap (the best melt & pour on the market is Nature's Garden Wholesale Candle and Soap Supplies).
Craft knife
If you wanted a stronger fragrance and don't care to go down the more natural essential oil route, you can dial it up with a non-toxic synthetic fragrance from Nature's Garden. A great blend for this would be the Indian Sandalwood or if you want to get saucy for Valentine, you could go with the Lick Me All Over!
Instructions:
1. Tie a knot on the each end of the rope.
2. With a marker, draw a circle the size of a quarter on the top of your tennis balls.
3. Use a craft knife to cut a hole in the ball.
4. Rinse out ball with water and leave upside down on draining board to dry (a couple of minutes is fine).
5. Take a dropper and drop 3 or 4 drops of essential oil in each ball and turn theme around a few times.
6. Melt the soap in microwave for about 3 minutes or until completely melted.
7. Whisk in 2 drops of soap dye and all of your aromatherapy blend.
8. Pour into the tennis ball.
9. Use a bamboo skewer to push the knotted ends of the rope into the ball.
10 Leave to set up overnight.
11. Use a craft knife to carefully cut the tennis ball off your soap ball.
Don't worry about any of the rubber chemicals coming off onto your soap because they rinse off as soon as you run your balls (Oh God that sounds awful!!), anywayyyyyyy – as soon as you run your spherical soaps under water!
I recommend getting all your essential oils from Mountain Rose Herbs