This is the best stuffed pumpkin I've ever made. My family are obsessed with it! I am going to make it for Thanksgiving. You can either serve it as a Holiday centerpiece (if you get a big pumpkin), or as a side. If you want to get really fancy, you could serve a baby pumpkin per person as a side dish. You can also substitute the pumpkin with a large acorn squash if you prefer.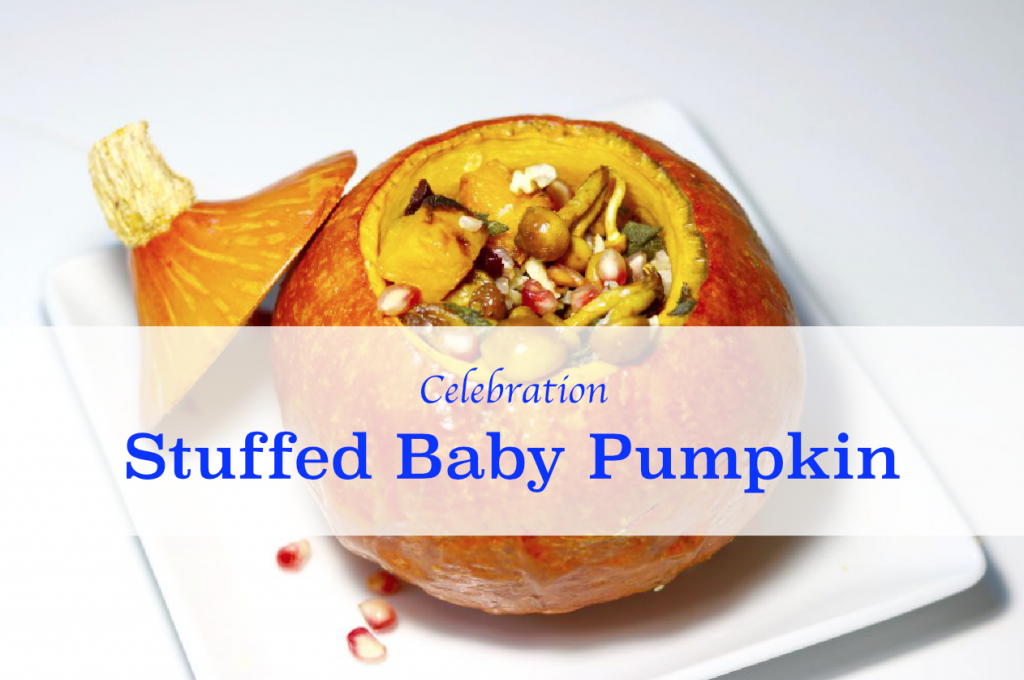 Ingredients
1 baby pumpkin or large squash
1 tbsp olive oil
2 cups cubed pumpkin or butternut squash
2 cups cooked Orzo, brown rice, or quinoa
1 tbsp olive oil
1 tbsp a neutral-tasting oil
1 small onion, minced
2 cloves garlic, minced
1 cup mushrooms (button, shitake, Chanterelle…whatever you can get your hands on!)
2 tbsp fresh sage, minced
1/2 cup toasted pecans*, chopped
1/2 cup of pomegranate seeds or dried cranberries
Sea Salt and cracked pepper to taste
*To toast pecans, lay them out on a baking sheet and place in a medium oven 375 degrees for about 15 minutes. Be super careful to keep an eye on them. Nuts go from toasted to burned really easily
Instructions
Pre heat the oven to 375 degrees F
Place the whole pumpkin in the oven on a baking sheet, and bake for about 40 minutes or until a knife slips in easily.
Remove from the oven and allow it to cool.
Meanwhile, turn up the oven to 400 degrees F.
Toss the cubed squash with the olive oil, lay on a greased baking sheet and roast for 30 minutes, or until browned, and softened.
Cook the Orzo, quinoa, or rice according to package directions and rinse/drain. Place in a large bowl and mix around with a little olive oil to prevent sticking.
Add 1 tbsp of a neutral oil such as grape seed or avocado oil to a skillet. Add the onion, and fry for 3 minutes until translucent. Add the garlic and mushroom, and fry for another 2 minutes.
Add the mushroom mixture to the Orzo/rice, and fold in.
Add the sage, pecans, and fruit.
Carefully fold in the roasted squash.
Season with sea salt and pepper to taste.
Slice off the top of the pumpkin. Set aside.
Scoop out the seeds with a kitchen spoon.
Spoon the filling into the pumpkin.
Before serving, pre-heat your oven to 350 F. Cover the pumpkin (leave top off and set aside), with a piece of foil. Heat for 25 – 30 minutes.
Serve with top on.
A last little tip to take it over the top: You might want to sprinkle with some vegan or non vegan cheese before you bake the final stuffed pumpkin in the oven. If vegan, I suggest Follow Your Heart Parmesan Shreds. If not vegan, I recommend grated Cheddar.