This comforting, nutritious, and delicious soup is a Spork Food creation. I now do regular Facebook live streams with Jenn and Heather from Spork Foods, and I am besotted with them. This dynamic sister duo helps us to cook cook vegan everyday in a way that is SO not intimidating. This is what they say about their Velvety Kale Soup with Cashew Cream: The Fountain of Youth isn't really a fountain, it's a bowl of kale soup. Fully loaded with greens and drizzled with cashew cream, this warming, nutrient-rich dish is packed with antioxidants and fiber—it's basically nature's Botox.
Serves 4 to 6
Prep time: 18 minutes
Cook time: 1 hour
FOR THE SOUP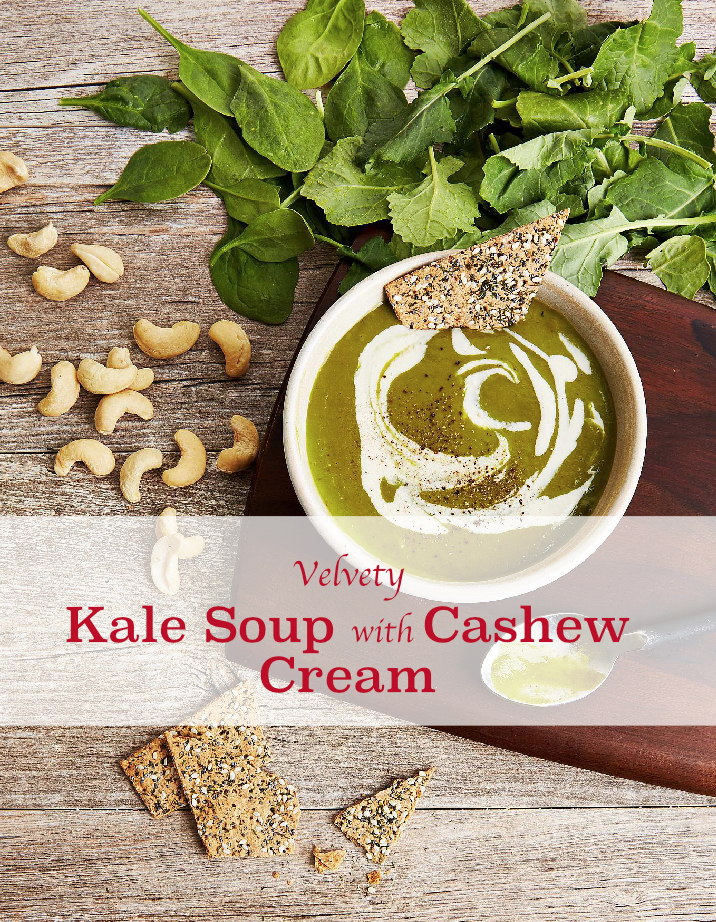 Ingredients
1 bulb garlic, top sliced off to expose the cloves
¼ teaspoon neutral-tasting oil
¾ teaspoon sea salt, plus pinch, divided
½ teaspoon freshly ground black pepper, plus pinch, divided
2 tablespoons vegan butter
1 medium yellow onion, finely chopped
1 large potato, peeled and diced (about ¾ cup)
1 bay leaf
1 large bunch kale, stemmed and chopped (about 3 loose cups)
1 bunch spinach, coarsely chopped (about 3 loose cups)
2½ cups reduced-sodium vegetable broth
¼ cup Marsala wine
1 cup soy milk creamer
FOR THE CASHEW CREAM
Ingredients
⅓ cup unsalted raw cashews
1 teaspoon freshly squeezed lemon juice
¼ cup soy milk creamer or almond milk
Pinch garlic powder
Pinch sea salt
Pinch freshly ground black pepper
Preheat oven to 375°F.
TO PREPARE THE SOUP
Place garlic bulb cut-side down in a heatproof ramekin. Drizzle with oil and sprinkle with pinch sea salt and pepper. Roast for 35 minutes, or until cloves are soft.
Heat a large stockpot over medium heat. Add butter and onion. Remove 4 or 5 cloves roasted garlic from the bulb and use the blade of a knife to squeeze flesh out of skin into the pot. Cook for 3 to 5 minutes, or until slightly softened. Add potato, bay leaf, and remaining ¾ teaspoon sea salt and ½ teaspoon pepper. Cook for an additional 2 to 3 minutes.
Add kale and spinach and sauté for about 3 more minutes to wilt.
Add broth, wine, and creamer. Reduce heat to a simmer and cook, partially covered, for about 18 minutes, or until potatoes are very tender. Discard bay leaf.
Using an immersion blender, purée soup. Alternately, blend soup mixture in a blender, with middle of lid removed, covered in a clean kitchen towel. Only fill blender halfway at a time, to prevent spillage. Season with more sea salt and pepper, if desired.
TO MAKE THE CASHEW CREAM
In a high-powered blender or food processor, combine cashews, lemon juice, creamer or almond milk, garlic powder, sea salt, and pepper and blend until smooth. Ladle soup into bowls and drizzle each portion with cashew cream.
Tip: Even though your greens will shrink by about 90 percent when you cook this soup, you'll still need a lot of room, so be sure to use a large pot.