Who doesn't love a fully-loaded baked potato? I certainly do, so I decided to health-it-up by using some of my favorite plant-based foods. Introducing my Tex Mex (kind of) Baked Potato. This is the perfect lunch or dinner for me because it's full of every feel-good nutrient, and it's filling/satisfying. It's also something that the whole family can enjoy.
The best thing is that it's an EASY dinner for busy women. Really quick: you've just gotta bake the potato and load in the other other ingredients. Done and done!
I always go for a sweet potato because it contains so many vitamins and nutrients, particularly for glowing skin. It also won't spike your blood sugar as quickly as a regular white potato.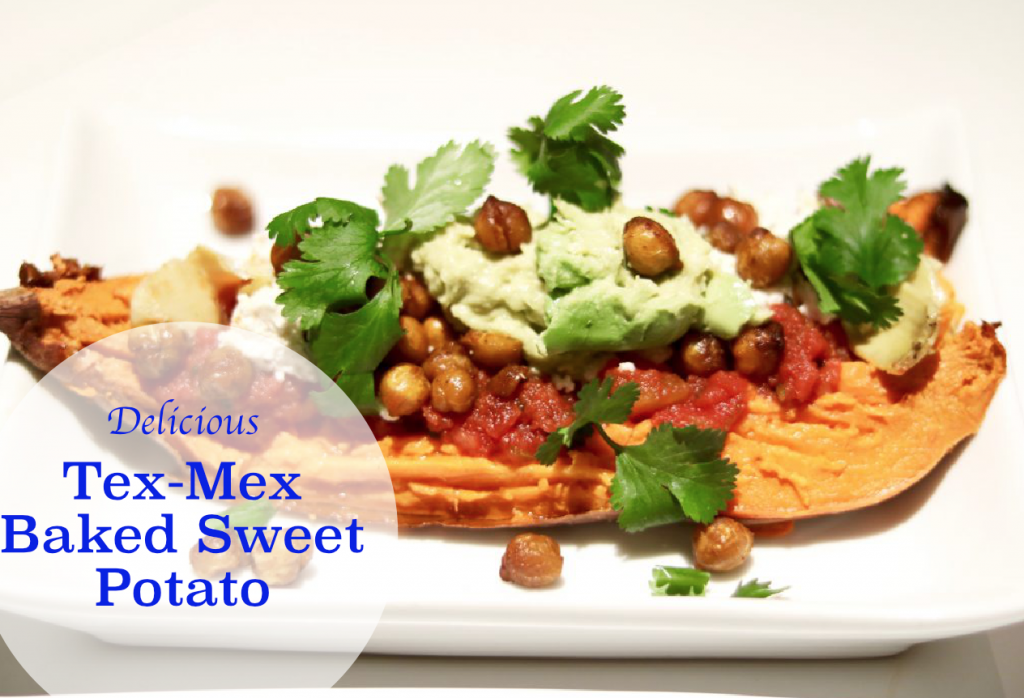 Ingredients
Serves 2
2 large sweet potatoes (with orange flesh)
2 tsp Earth Balance buttery spread
Sea salt and pepper
Vegan Ricotta (or any vegan cheese that you like and can get your hands on) -I do like the Kite Hill Ricotta because it's a bit like Cotija cheese
Salsa (I go store-bought!)
Guacamole (I always make it myself with one smashed avocado and a squeeze of lemon, because I detest the additives in most store-bought guac)
Roasted Chickpeas
1/2 can garbanzo beans, drained
2 tbsp avocado or grape seed oil
Sea Salt
2 tsp Tamari or Shoyu sauce
Season with either a Taco seasoning mix, or 1/2 tsp smoked paprika
Cilantro for garnish
Instructions
Pre-heat the oven to 375 degrees F
Wash your potatoes, and place on a baking sheet. Prick them to avoid bursting.
Place in the oven for 30-50 minutes (depending on size of potato). Be careful not to over-cook as they shrivel up. A knife should slip in easily to the center.
Remove from oven and allow to cool for 15 minutes
Meanwhile, turn the oven up to 400 F.
Place garbanzo beans in a bowl with the other ingredients, and mix well. Spread them over a parchment paper-lined baking sheet. Pop them in the oven for approx 15 minutes. Remove and allow them to cool for a few minutes.
Cut the potatoes open and fluff up the flesh with a fork. Add the buttery spread, salt and pepper.
Load with the other ingredients in whatever order you prefer.
Tip: You can make this ahead of time because it's really good at room temperature. I sometimes pop one in a glass container and take it to work with me for lunch.