Okay – here's your uber-delicicous, uber-healthy, and uber my-favorite-new-snack-ever super food popcorn. Ditch that yucky, unhealthy movie theater corn, and pop your own so that you can munch away in the knowledge that you are seriously loving yourself!
Super Food Popcorn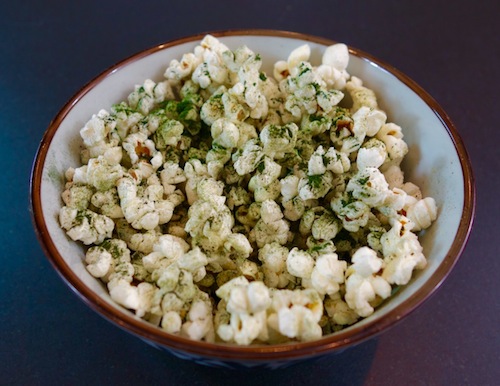 Ingredients
2 tbsp good quality extra virgin olive oil
1/4 cup nutritional yeast
1tbsp Chlorella Powder (this is an algae superfood, which has incredible detoxing benefits. You can find it at your local health food store).
1/2 tsp turmeric
1/2tsp onion powder
1/2tsp garlic powder
Dash of Cayenne or Smoked Paprika
Sea Salt to taste
1/2 cup organic corn kernels
1tbsp coconut oil for popping
Instructions
In a small container or bowl, combine all the ingredients except for the corn and coconut oil. Use a teaspoon to mix it really well. Set aside.
Place coconut oil in a heavy bottomed pan and heat until it bubbles. Add corn, shake pan really well a few times to prevent corn from burning, as it begins to pop.
Listen carefully for last few pops (be careful it doesn't burn – yikes!!!).
Place in bowl and add your super food mixture – mix it in well.
Enjoy your super food popcorn!
For more Gorgeously Green recipes delivered to your inbox, subscribe to my weekly newsletter!