Tonight I am cooking Sophie's awesome stuffed portobellos. I'm celebrating Earth Week by cooking one of my favorite vegan recipes every single night this week. Although they are carnivores, my family LOVE my vegan dinners – and never EVER complain about the lack of meat. That's the thing with vegan cuisine – it can be awfully uninspiring…but, not in my kitchen!
As a little side-note, although I really don't mean to preach, really guys, the reason why I decided to finally forgo meat period, is because I have done enough research to understand the environmental impact of eating meat – and it's bad. Actually, giving up meat is the most powerful an action in terms of being eco-friendly, that you can take – does more for global warming than taking your car off the road! But enough (because I am starting to sound preachy, even when trying not to) – let's get on with the business of a wickedly delicious meat-free dinner.
This recipe serves two.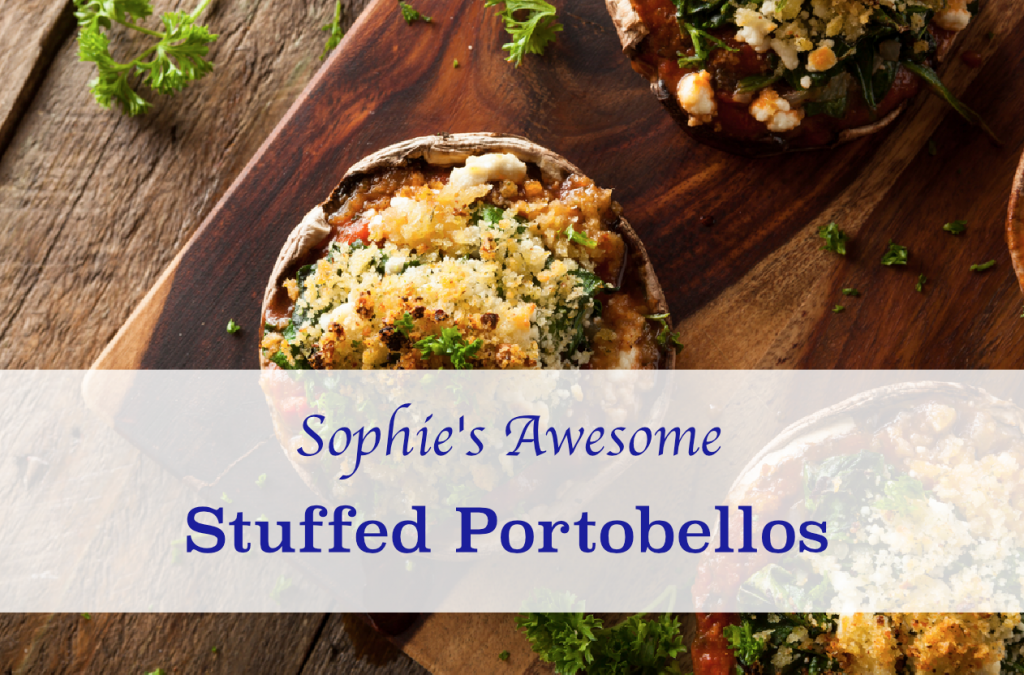 Ingredients
1 cup raw cashew nuts, soaked overnight
juice of one lemon
1/2 cup of filtered water
1 tbsp nutritional yeast
1 tbsp tamari
1 garlic clove, minced
sea salt and pepper to taste
4 medium or 2 giant Portobello mushrooms, stalks removed
1 tbsp olive or grape seed oil
1 small yellow onion, minced
2 garlic cloves, minced
2 cups of cherry tomatoes, quatered
1 cup Panko bread crumbs (or gluten-free breadcrumbs) + 1 cup for topping
2 tbsp Nutritional Yeast
2 cups baby spinach
8 – 10 fresh basil leaves, chopped
2 tbsp parsley, minced
1 tbsp olive oil
Instructions
Rinse cashews, and place in blender with water, lemon juice, nutritional yeast, tamari, salt and pepper. Blend until smooth. It should be thick and creamy. Put aside.
Pre-heat oven to 375 degrees F.
Place mushrooms, open side up in a shallow Pyrex baking dish. Pour about 1/4 inch of water into the dish.
Heat the oil in a skillet. Add the onions, and fry until soft. Add the garlic and cherry tomatoes and fry for a further 3 minutes, until all smooshed up. Stir in the breadcrumbs, Nutritional Yeast, salt and pepper.
Add the spinach to the skillet, and cover. Turn down heat to low and allow the spinach to wilt.
Stir in the basil leaves.
Spoon about 1 tbsp (depending on size of mushroom), of cashew cream into each mushroom cup.
Fill each mushroom with the tomato filling.
Top each mushroom with 1 tbsp breadcrumbs and 1 tsp of olive oil
Cover the baking dish with foil (or even better a Pyrex lid).
Place the oven for 20 – 30 minutes. Remove the foil or lid for the last 10 minutes of cooking, to get the breadcrumbs crispy.
Garnish with parsley
Enjoy Sophie's awesome stuffed portobellos!
For more Gorgeously Green recipes delivered to your inbox, subscribe to my weekly newsletter!