Okay, as you know I don't usually love stuff that's too sweet, however, if we're ever going to indulge, Valentine's might be the day! I love the combo of rose and chocolate. My Rose Chocolate Brownies are delicate, decadent, and a treat that's worth "falling off the wagon" for!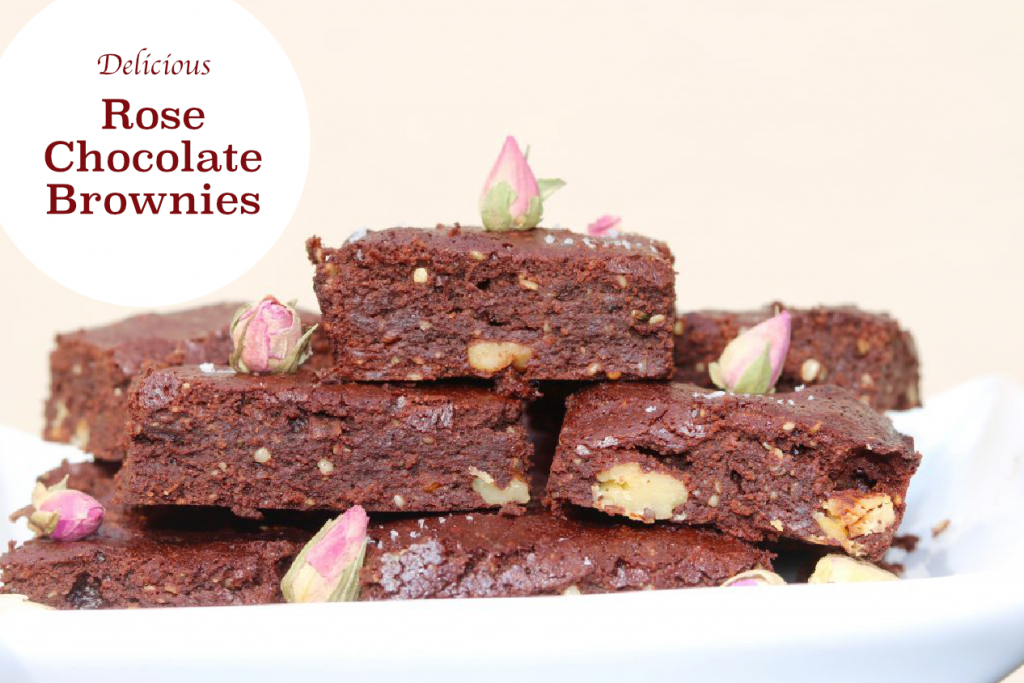 Ingredients
8 ounces dark baking chocolate (I love Lily's Sweets)
6 tbsp coconut oil
3 eggs or egg replacer
1/2 cup almond flour
1/2 cup cacao powder
1/4 tsp sea salt
1 cup coconut sugar (or Erythritol if you are diabetic)
1 tsp vanilla extract
4 drops of rose pure essential oil (I love this one by Atelier)*
1/2 cup hemp seeds
1 cup walnut pieces
*It is very important that you use a very pure essential oil for culinary purposes. The two that I have mentioned above are both good. If in doubt, leave this out. You could add 2 tsp Rosewater instead. Do not ingest any essential oils if pregnant.
Instructions
Pre-heat oven to 350 degrees F
Grease a 12 x 8 baking pan (depending on how thick you want your brownie, you could go smaller)
Melt the chocolate and coconut oil in a small, heavy saucepan (or microwave). Once melted, leave to cool for a couple of minutes.
Place all the dry ingredients in a bowl.
Beat the eggs, or prepare egg replacer according to package directions.
Make a well in the dry ingredients.
Pour in the chocolate mixture and the eggs or egg replacer, and mix well until you have a smooth, shiny mixture.
Mix in the vanilla extract and rose oil or rose water.
Mix in the hemp seeds and walnuts.
Place in the over for 25 – 28 minutes or until toothpick comes out clean.
Allow the brownies to cool completely until you cut into squares.
Store in an airtight container for up to one week.
Tip: Decorate with tiny dried rose buds, and serve with a cup of Rose Tea.