The Law Of Attraction
I'm a big fan of the law of attraction. I often dip into the Law of Attraction books by Esther and Jerry Hicks. Just reading a couple of pages serves to remind me that keeping my mind on what I want, instead of what I don't want, keeps me firmly rooted in the solution. And while I don't believe that I can magically drum up a mansion in Malibu overnight if I visualize hard enough, I have seen the manifestations of my desires over and over. And the more I let go, the quicker these dreams materialize. So when I came across Wishbeads to help manifest your dreams, I was hooked.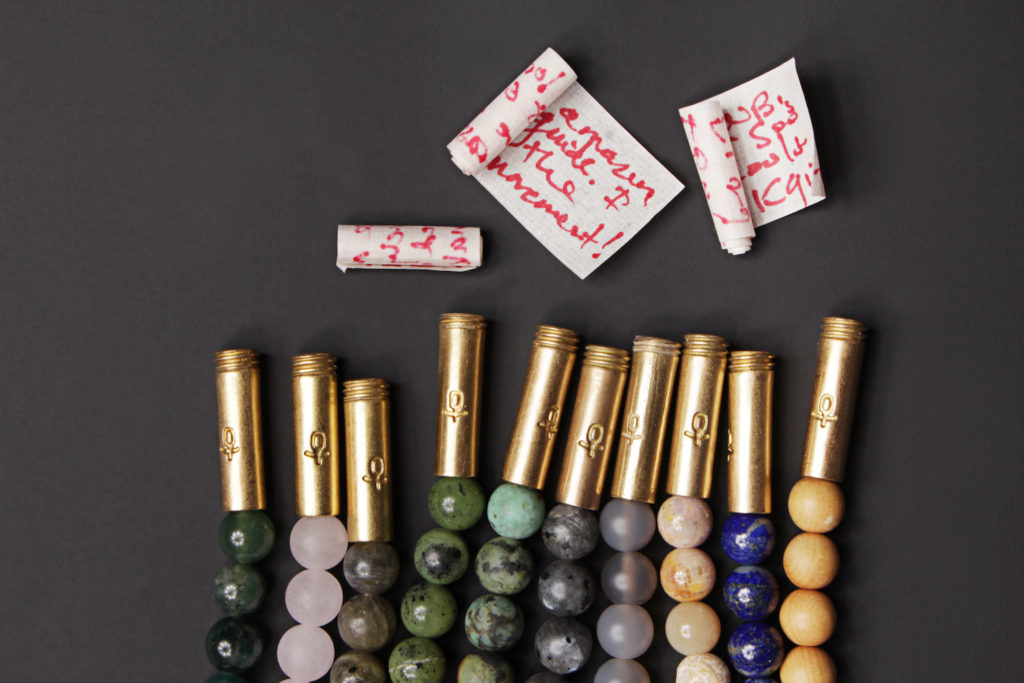 What Are Wishbeads?
Wishbeads are the brainchild of Alexa Fishcher. Wishbeads are beautiful bracelets that serve as a reminder to stay focused on your wishes, dreams and goals. I think it's genius because we can so often lose sight of our dreams in the chaos of everyday life.
But Wishbeads aren't just pretty beads. Inside the brass clasp of each bracelet, you'll find the magic key to dream manifestation – a tiny scroll on which you write out your wish, desire, or dream. You then roll the scroll back up, insert it back into the hollow clasp, and you're set.
Letting Go Of Attachment
When I decide on what I want, I have to hold it loosely. This means that I let go of all attachment to the outcome. If it doesn't happen, it's because it wasn't right for me. If it doesn't manifest, it doesn't mean I haven't visualized hard enough, or in the right way. This is very important. It will only materialize if you hold your "vibration" in a place of plenty and prosperity, not lack. As The Law Of Attraction books teach us, we need to focus on what we want, NOT what we don't want. This sounds simple, but it's really tricky not to focus on the lack of whatever it is that you want. The key is gratitude.
Gratitude
Looking at my bracelet throughout the day reminds me to be grateful for everything I have. This makes me happier. It raises my vibration. And thusly, my wishes are way more likely to materialize. I don't need to obsess about them. And my gratitude starts with myself – being grateful for me, and realizing that I am enough right now, without any of these desires materializing.
WishWork Book
Alexa has also created a WishWork book, which is a 21-Day journey on how to visualize and put in the work to make your dream come true. I LOVE this book.
I recommend going to the Wishbeads site, picking out the stone that resonates with you, and beginning your 21-day journey to realizing your dreams.
Will will be working with Wishbeads on my upcoming Wellness Retreat (Sept 12th – 14th) at the gorgeous Monarch Bay resort in sunny SoCal. Every attendee will receive her own Wishbeads and book. Click here to read more about it, we still have a couple of spots left.