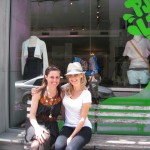 Okay – if you travel to NYC (if you live there, you probably know this store already,) you have to visit Kaight – an absolute treasure trove for the G.G.girl. The lovely owner, Kate McGregor, wanted to do something to make a difference and clearly loves brands with a conscience. This small boutique is jam packed with so many goodies, you won't know where to start. For the shoe-lover, you'll find every kind of Melissa flip flop and sandal imagainable, and almost the entire line of Coclico shoes, both of which I've totally fallen in love with.
Kate has a wonderful taste in clothes, so much so, that you'll pretty much want everything hanging on the racks. Each garment is beautifully made – these really are pieces to invest in, garments you will treasure. I've always been a great believer that the greenest way to purchase clothes, shoes and purses, is to go for the best quality that you can afford, and to buy less. The classic, non-chain store items that I nearly had a credit card- panic attack buying years ago, are still hanging in the front of my closet and will be worn for years.
She carries a very unique line of nail polish called Strange Beautiful – non-toxic of course, and stunningly unusual shades, which you don't typically see in a nail polish line. The colors are hand-mixed by the artist who created them.
If you're looking for a new swim suit, she carries Bantu suits and bikinis – LUUUUUUURVE them! So if you are planning a visit to the Big Apple this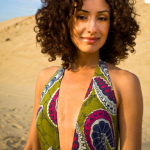 summer, make a point of visiting Kaight on the trendy Orchard Street in the East Village. You may well bump into one or two eco-celebrities, as green girls such as Kate Dillon, Emily Deschanel, Hillary Swank, Kirsty Hume, and Blake Lively clearly like this store as much as I do.  It's also bang opposite Moo Shoes – a totally vegan shoe store. Kate has created a very great vibe in a great neighborhood. This is the way that shopping should always be –  I can't wait to go back!
BTW – if you can't get to physcially get to Kaight, visit the online store.