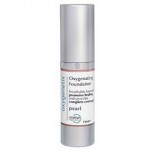 What makes a perfect foundation? My top requirements are: good coverage, goes on easily, great color selection, non-toxic, and healing/therapeutic ingredients.
The most important thing, however, is that after it's applied, when I look in my scary magnifying mirror,  I really don't want to see the foundation sitting on my skin. The horror for me would be going out in the daylight with an obvious/badly-blended base.
I've tried & tested so many foundations over the past few years and definitely have my favorites, however, Oxygenetix took me by surprise. After working with plastic surgeons on products that would provide coverage and help heal, minimize and eliminate procedural scars, founder, Barry Knapp created the air-permeable foundation. The secret ingredient: Ceravitae Complex, a patent-pending formula proven to increase oxygen uptake, stimulate skin cell production and speed the healing process. And the fact that it's water-resistant for up to 90 minutes, contains SPF 25 and comes in seven blendable, color-corrective shades is the icing on the cake.
What I just adore about the foundation is that you really truly feel although you're not wearing a base – it sort of disappears onto your skin, and even when I turned the light on the magnifying mirror, I could barely see a trace of it.
Oxygenix provides the perfect amount of coverage for me – as it nicely smooths out imperfections, without being too heavy. It's also very exciting to think I can even swim with this on in the Summer AND that it contains a nice SPF!
When considering your shade, go one shade lighter than you normally would. I first tried my usual color "beige," but it was way too dark, so ended up with "Creme," which was perfect.
It's pricey, but if you're in the market for a really stellar foundation, it's really worth the price.
You can either find a dermatologist who carries it, or purchase from Lovely Skin.