What rock have I been living under that I didn't know about Astara Skincare? Seriously girls, this line is SO up my alley – it's natural (and I mean REALLY natural,) skincare at its very best in terms of quality and efficacy. Why? Because it's "raw", which means that all the enzymes and nutrients that are usually destroyed during the production of a skincare product, are still fully intact and "alive". These are ingredients that belong on your skin.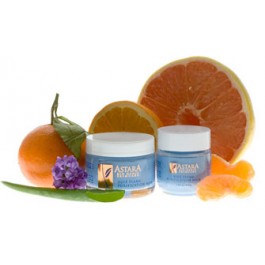 I don't even know where to begin with which product I love because they are so many! Astara Skincare has a great product for every skin concern too. If you have oily skin that is prone to breaking out, the Blue Flame Purification Mask is a must – my teenager daughter is obsessed with it because it helps her acne-prone skin without drying her out. All of the pastel-colored masks are amazing.
I also love the Astara Skincare moisturizers and that you can either choose the "light" moisturizing cream for oily/normal skin, or the intense for dry/mature skin. Remember that climate and humidity also comes into play when you choose your moisturizer: in So Cal I need the "Intense" but when I travel to the South next week, I'll need the "Light" because of the intense humidity.
Anyway, check out their whole line because it's seriously Sophie-Approved!
BTW – the Astara Basic Kit would be a great fit for my 30-day Gorgeous For Good Program:)