My magic moringa super smoothie is all about helping anyone who wants to combat inflammation, which not only can lead to painful arthritic conditions, but also could develop into numerous serious diseases. Inflammation is a hot button topic, and there's good reason why. So, my magic moringa super smoothie is called "super" because it's loaded with other spices that also add combat inflammation. It's a triple-threat combo, which also happens to taste delicious.
The moringa plant is native to India, and the entire plant can be consumed (seeds, stalks, leaves etc). Moringa is said to provide 7 times more vitamin C than oranges, 10 times more vitamin A than carrots, 17 times more calcium than milk, 9 times more protein than yogurt, 15 times more potassium than bananas, and 25 times more iron than spinach. So if as a whole food plant-based girl or guy, you're worried about not getting important nutrients such as calcium, this is your go-to plant.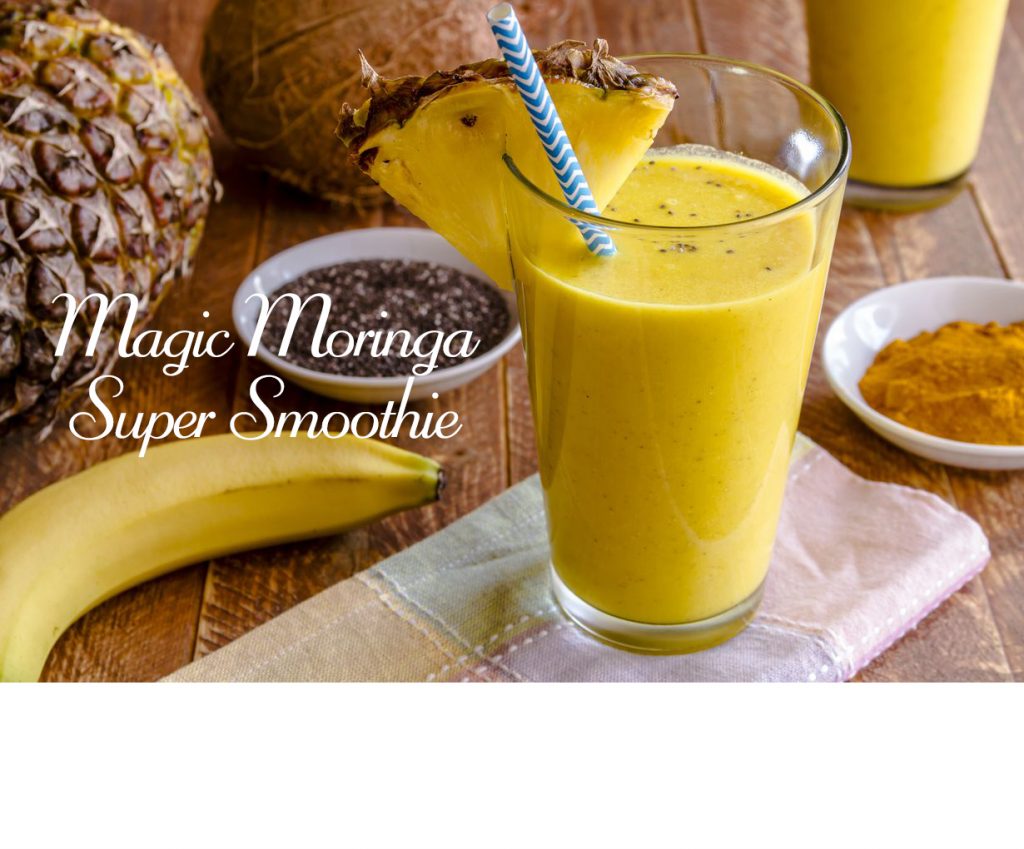 Moringa can act as an anti-diabetic agent. Studies are also showing that Moringa may also have anti-cancer, and neuroprotective effects. So, all in all, I'm pretty impressed with this humble plant. And this is the reason why I've called my smoothie a "super" smoothie.
Moringa can be typically purchased as an oil from the seed, or a powder. The oil can be used in place of olive oil. Moringa oil is very high in PUFAs, which can help control cholesterol. Moringa oil is a wonderful skin care ingredient too. You can also buy the powder, which is made from the raw leaves. This is very high in fiber, and thus an excellent additional benefit to your smoothie.
I've included turmeric because of it's anti-inflammatory compounds, black pepper, which helps the turmeric to be absorbed, and ground ginger to aid digestion and boost your immune system.
I added chia seeds for your omega 3 fatty acids – you could sub with ground flax if you want.
I've chosen sweet pineapple and mango to combat the slight bitterness of the Moringa. And you could always add a couple of dates for extra sweetness.
Ingredients
1 cup frozen pineapple
1 cup frozen mango
1 frozen banana
16 ounces plant-based milk or coconut water (I love to use coconut milk in this particular recipe)
1/4 tsp ground turmeric (or 1/2 inch of fresh turmeric root, peeled)
1/4 tsp ground ginger (or 1 inch of fresh ginger root, peeled)
1 tsp ground ceylon cinnamon
1 pinch of ground black pepper
1 tsp chia seeds (or 1 tbsp ground flax)
3 pitted dates (optional)
Tip: Nothing to stop you adding in a handful of greens like baby spinach or kale.
Instructions
Pop everything into a high speed blender, and blend until smooth. It may take a bit more blending if you use dates. If you like an ice blended smoothie, add 1/2 cup of crushed ice to the blender.