I'm a big fan of Dr. Michael Greger of Nutrition Facts. In fact I did a FB live with him last week, and I'm clearly not his only fan because I got more views on this stream than any I've done (come back Dr. Greger!!!). The man just talks a lot of sense.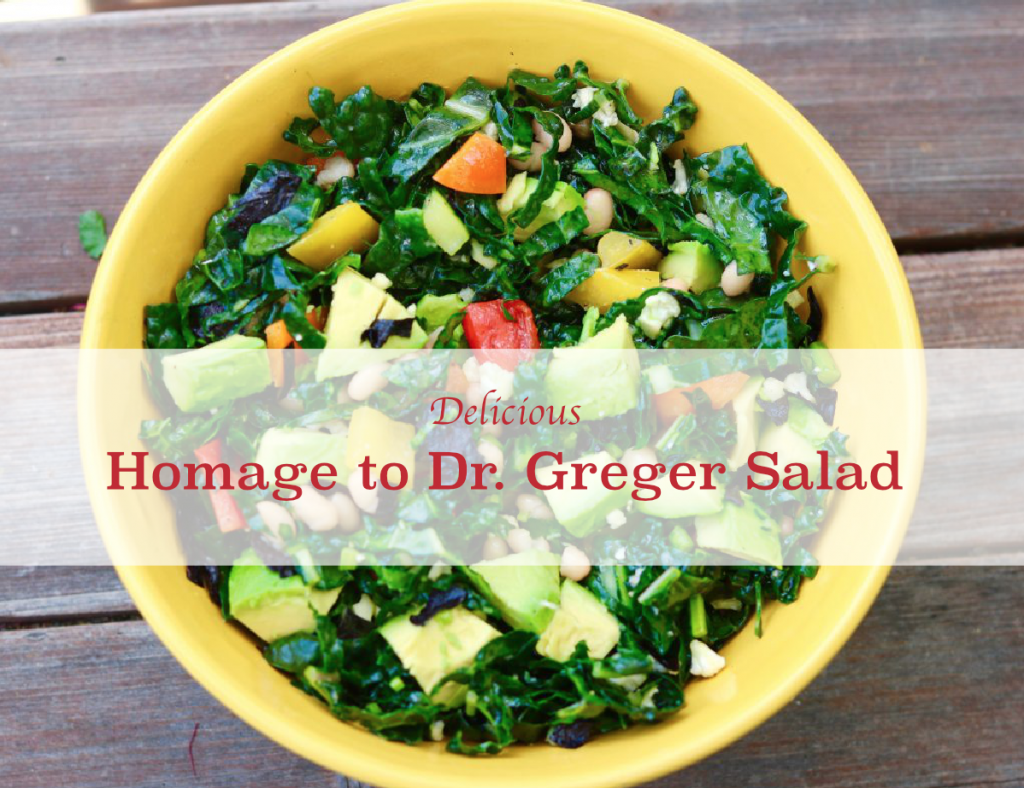 Opening question on the chat:
Sophie: What's your nutritional philosophy?
Greger: I don't have one! You don't need my opinion, you need the scientific facts based on current studies from around the globe.
Sophie: That's great! That's why I love you so much.
Greger: Well, I don't think we should get props for evidence-based science. It's a sad state of affairs that those who present evidence-based science get kudos! That should be the base line that we all operate from.In a climate of "fake news", there's also a lot of "fake" or horribly-under-researched, health information, and that's what he's talking about. So, Greger helps us to get to the bottom of an awful lot of nonsense.
But this is a recipe post, so I'll get on with it!
I wanted to create a salad (a whole lunch or dinner bowl), which checked all of the doc's top nutritional boxes for the day. So here are some of the star players:
Cruciferous veggies to protect against cancer
Beans (PROTEIN!), which are eaten by all the healthiest cultures on the planet, and are one of Dr. Greger's top foods. He recommonds 1/2 a cup of day of any bean
Watercress is arguably one of the healthiest greens
Nori seaweed will help those with low thyroid, and is a very healthy food regardless
Avocado is full of healthy fats
Bell peppers may protect against Parkinson's disease
So here's my homage to Dr. Greger salad, which just happens to be as deliciously crunchy as it's healthy…enjoy!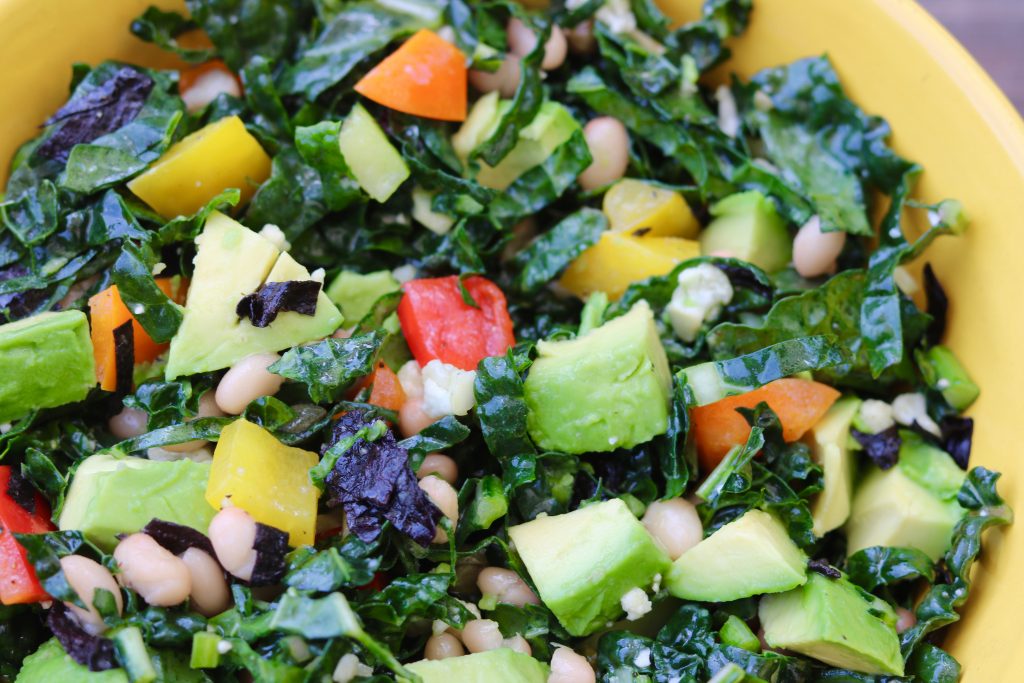 Ingredients
Serves 2
2 cups grated raw cauliflower
3 cups shredded dino kale
2 scallions, minced
1 cup parsley, chopped
2 cups watercress, shredded
1 sheet of Nori seaweed, cut into tiny strips (with a pair of scissors)
1 red, orange or yellow organic bell pepper, cubed
1 large cucumber, cubed
1 15-oz can white beans
2 tbps capers
1 cup green olives, sliced
1 avocado, cubed
Dressing
1/2 up avocado or olive oil
2 tbsp apple cider vinegar
2 tsp lemon juice
Sea salt and pepper to taste
Instructions
Combine all the ingredients in a large bowl.
I serve mine with warm wholewheat pita, or a handful of gluten-free crackers
Storing
You can make ahead and store in an airtight container in the fridge for 2 days.