[tubepress mode="playlist" playlistValue="PLJvm2Uj3aJLJCItD2svflDskpxGQu4h6u" hqThumbs="true"]
---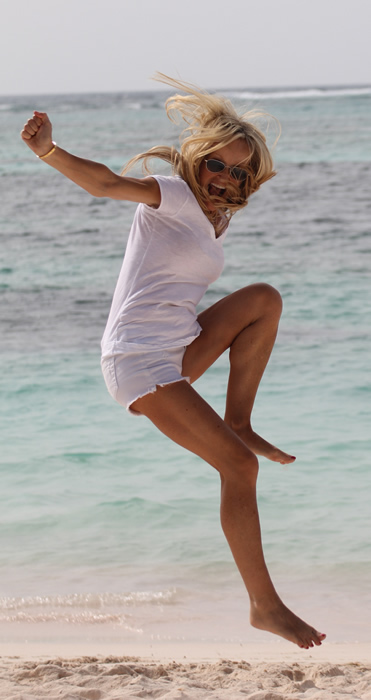 So you can truly hit the ground running come the first week of April when you have my book in your hand (and if you haven't done so yet, you can PRE-ORDER it right now!!), I want to offer you some tips, updates and recipes that will help to get you started on looking, feeling, and staying gorgeous…for good.
What is the 30-day Gorgeous for Good Program?
It's a 30-day skin-to-soul program, which aims to completely transform the way you feel. It is not a diet – , it's a LIVE-it – a series of lifestyle changes, which will set you on the right path for the rest of your life.
Why start it now?
You can't rewind time, right? I've heard so many women saying, "I wish I had known that 20 years ago!" or "I wish I had changed my unhealthy lifestyle 10 years ago before I got sick". This is why I'm passionate about starting now. Whether you are 20, 50, or 70 – it's not to late to start taking care of yourself NOW.
What do I have to give up?
I don't ask you to give up anything without replacing it with something better. So, in asking you to forgo for sugar, dairy, gluten etc for 30-days, I don't expect you to subsist on carrot sticks and rice cakes. Like many of you, I love sweets, I love baking, and I simply like and want my daily treats. In the Gorgeous for Good eating plan, I give you loads of delicious recipes for muffins, scones, bars, etc so that you can have your cake and eat it too.
Will I lose weight?
If you need to, you will. By virtue of the fact that you are eating a Whole Food Plant Based diet, it's tough to over eat or pack on extra pounds. Actually, you can eat pretty much as much as you want of these foods I recommend. There is no calorie-counting or portion control on my eating plan. And I recommend you give away your weighing scales.
How will I survive without meat?
Easily! Anyone can go animal flesh free for 30 days, however, if it's impossible for you, don't worry – I'm not a vegan zealot. If you need the odd piece of meat, go ahead and just make sure that it's certified organic.
Why do you recommend giving up both meat and fish?
My 30-day eating plan is a detox of sorts in that I suggest you give up food that contains toxins and pollutants for this short amount of time. Sadly, our oceans are very polluted and it's almost impossible to find a piece of fish that doesn't contain heavy metals and/or PCB's/dioxins. Eating lower on the food chain (plants!) minimizes your exposure to pollutants dramatically. This is obviously the same with meat.
Vegetables contain cancer fighting compounds, veggies inhibit fat storage hormones from kicking into action. Meat does NONE of the above. Therefore eating a meat-free diet = healthy and slim. Pretty simple, right?
If you do want to eat fish, make sure that it is wild, and avoid fish that contain the highest amounts of mercury such as Ahi/Albacore Tuna and Swordfish.
What about eggs?
Again the odd egg is fine, but remember eggs do raise cholesterol levels, and you can get all the nutrients you will find in an egg in many plant foods.
How will I get enough protein?
We are kind of obsessed with protein in the U.S. Trust me, you will get plenty of healthy plant proteins – even if you are a hard-core athlete.
The kinds of protein I recommend are nuts, seeds, pulses, legumes, sprouted/fermented tofu, pea protein or hemp protein powder, beans (loads of beans!) and protein packed veggies such as broccoli, asparagus, and watercress.
Why do I need to give up refined grains and gluten?
Refined grains as in white flours contain nothing in the nutrient department, and spike your blood sugar. Although you may eat some gluten if you are not gluten-sensitive, it's generally better to steer clear for 30 days to allow your gut to cleanse, heal and function properly. But be aware that just because a food says it's "gluten-free" doesn't mean it's healthy. It could be packed with sugar and other additives. Always look for whole grain flours such as Quinoa, Teff, or Almond Flour. You can also eat sprouted grains because the process of spouting releases nutrients and makes the grain easier to digest.
What about Caffeine – I love my coffee?
I recommend you keep your coffee to once a day, and make sure it is a low-acid coffee. Try to switch to tea instead – you'll still get your caffeine, but without the acidifying your system.
If I can only give up 2 things, what should they be?
Sugar (as it refined sugar) – and remember even honey and Agave are "sugars", and soda, especially diet soda!!!
What about supplements?
I prefer that you get your nutrients from whole foods instead of popping pills. Your body will assimilate and absorb them in the way that nature intended. However, some of us may need to supplement with a good omega supplement, a pro-biotic, Vitmain B12 (for non-meat eaters), and possibly a magnesium supplement.
Will I need to join a gym?
No!!! My program is all about convenience for women who are as busy as I am. I ask you to do little blasts for exercise throughout the day – our bodies were designed to move a LOT, and that's what you are going to do.
Did you say something about meditation?
I sure did! One of the most important parts of your day is going to be something I call "ME TIME" – first thing in the morning. I ask you to carve out just 10 mintues to learn a tiny, easy breathing and meditation practice, which can change you day entirely.
Will I have to buy loads of expensive skin care products?
Not necessarily, although I am not going to lie – good quality, TRULY natural products are way more expensive than the cheap mass-produced ones. That being said, I give options for every budget, and if you are up for it, the biggest money-saver is making your own. I include a plethora of DIY skin care recipes in the book.
To help you get started:
I highly recommend trying out Plan To Eat, a fantastic planning system, which helps you create meals for the week ahead, and even creates shopping lists for you.
Also please visit some of my favorite vegan/clean eating recipe blogs to get inspiration and ideas in time for your 30-day program:
And, one last tip – GET A BUDDY!
I cannot stress the importance of getting a buddy to cheerlead you through your 30-day program. I have been taking Kym Douglas and Paige Hemmis from Hallmark's Home and Family through the program. Since we are all on the show together every week, it has been easy for us to cheer each other on – watch here. When you have a good friend doing it with you, you SO want them to succeed, and you want to help them through their personal challenges. We all have an achilles heel, right? For some it might be an addiction to sugar or carbs, and for another is might be resistance to doing 40 minutes of exercise a day – others have families who make it tough – so to partner with a friend who has your back is the way to go. It always makes me want to literally walk that extra mile, or reach for a cup of green tea instead of a sugar-laden latte – after all, you've got to kind of own up at the end of each day when you text each other!
If you are thinking of someone you want to encourage to get healthier and feel better, why not grab 2 copies of my book (shameless plug, I know!) one for you and one for them – and when you're done, you pass your books on to someone who wants what you've got. Oh – and one more thing…you get to trade out healthy recipes, which is the BEST.