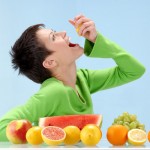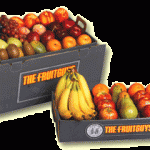 So I wake up this morning to dog going nuts because door bell is ringing – out I go in fraying robe and bed-head hair to find an enormous box of fruit from The Fruit Guys. I had been looking forward all week to my box, but had totally forgotten about it, so was thrilled be able to unpack my goodies instead of having to deal with the meter-reading dude (who I'd thought it was). The Fruit Guys totally rock. The company was founded in 1998 in an attempt to get offices, schools and regular folks like you and me, to eat healthy. All the produce is locally grown (to wherever you are), and is organic. Not only that – its the finest fruit I've ever tasted. My box was choc full of seasonal fruits, including 3 different kinds of apples, 2 different kinds of pears, blueberries, and things I'd never normally eat like Kiwi.
What works for me about having a box delivered is that I wouldn't typically buy many of these fruits and just having them delivered makes you eat them. It actually makes you eat 3 times the fruit you normally would eat, as you don't want to waste a single piece of it. Also, in the winter months, I don't crave fruit, so getting my however-many-servings I'm supposed to eat, is harder.
This awesome company started The Farm Steward Program to support small organic family farmers, and they donate 7,000 lbs of produce per month to non-profits and food banks.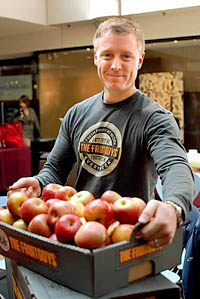 All in all, it's a monthly payment (very reasonable), that is an investment in your and your family's health. A few less sugary coffee shop drinks and you've paid for your monthly box. Guess what I'm gonna be cooking up this weekend – apple, pear and blueberry cobbler, served with a very generous scoop of organic vanilla bean icecream!
BTW – you know those sticky labels that tell you if your fruit is organic or not (remember you need to look at the first number and that #9 is fine, cos it's organic), anyway, people are flushing these labels down their waste disposals and sinks when they wash their fruit. Big problem here because the sewers are apparently getting clogged up with them. So remember to peel the label off and stick it in the trash!