Spas and fancy resorts charge and arm and a leg for a marine detox mask – seriously, guys! And if I told you that you could make one that is way better, for a fraction of the price, would you? Of course you would! You are going to love my latest beauty DIY! My Chlorella & Kelp Detox Mineral Mask will not only draw impurities out of your skin/pores, but it will also infuse your skin with a super high concentration of minerals.
Why Did I Come Up With This Recipe?
I just came back from a weekend away and visited the spa in a very fancy hotel. They offered a number of detoxifying treatments, including a seaweed mask. A facial with this kind of  a mask would have cost me upwards of one hundred and fifty bucks! I looked at the products they were using and thought…hmm, I'll come up with my own version, which will actually be way better. So, here it is!
The French cosmetic clay will draw impurities out of your skin. The kelp powder and the Chlorella are anti-inflammatory, soothing, and extremely rich in minerals – they will literally feed your skin.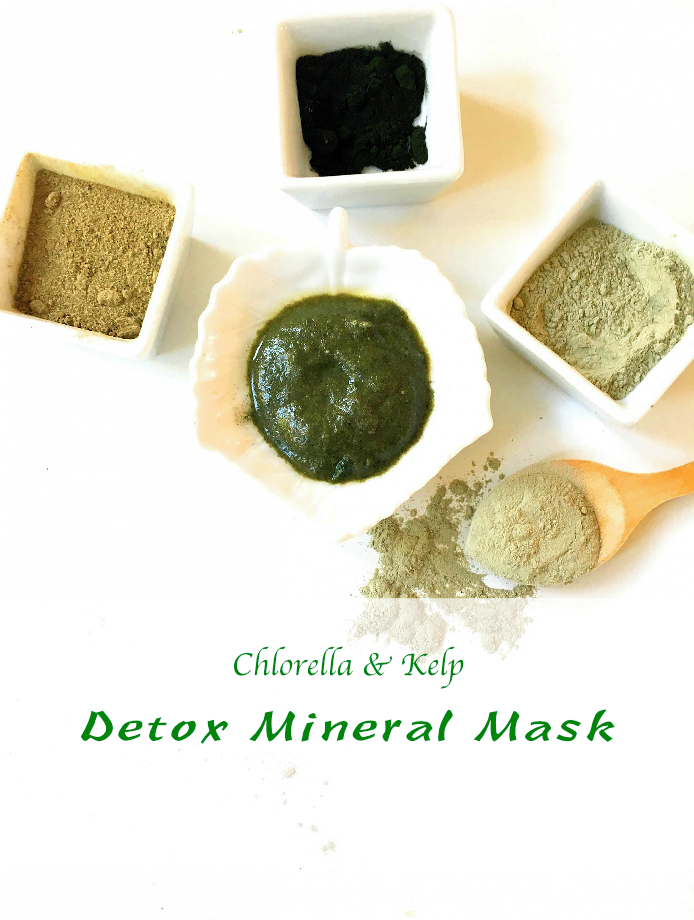 Ingredients
Instructions
Mix all the ingredients in a small mixing bowl. You might want to use a small whisk. You want the mixture to be thick, but runny enough to be able to smooth over your face. You can always add more (or less) aloe vera juice.
Use a fan brush to smear over your face, neck and chest. The clay will tighten and dry. Leave the mask on for about 2o minutes.
Rinse off with warm water (it might take a few rinses, and you will probably need a hot face cloth to aid the process.
Moisturize as usual.
If you have a nighttime regime where you use serums, such as retinol, you can proceed with your regular regime after removing your mask.