This is not only my favorite breakfast, but also one that is choc full of super-foods and antioxidants. After being on the road for a few weeks, I couldn't wait to get back into my kitchen to make a huge batch of my yummy granola and homemade almond milk. The following breakfast will stave off your hunger (so helps with weight-loss), until lunch, as it's packed with plant protein, grains, tons of fiber and super-foods – soooo delicious too!
INGREDIENTS:
1/2 cup raw honey
1/4 cup virgin coconut oil
1 tsp vanilla extract
4 cups rolled oats
1/2 cup raw almonds
1/2 cup walnut pieces
1/2 cup sunflower seeds
1/2 cup shredded unsweetened coconut
2 tbsp Maca Powder*
1 cup raisins
1/2 cup unsweetened dried cranberries or apricots cut into small pieces
*Maca's reputation as a powerful enhancer of strength and stamina and as a libido-fertility herb goes back more than 500 years, and today it is gaining worldwide attention for its effectiveness.
DIRECTIONS:
Preheat the oven to 375°F.
Combine the honey and coconut oil in a small saucepan over low heat and warm until liquefied. Add the vanilla.
Combine the oats, almonds, walnuts, sunflower seeds, maca powder, and coconut in a large bowl and add the honey mixture. Mix well to evenly coat and spread over a baking sheet.
Put in the oven and bake for 10 minutes, then stir, add the raisins and cranberries, and return to the oven. Bake until crisp and lightly browned. Remove from the oven and cool. Store in a large glass or stainless steel container.
Homemade Almond Milk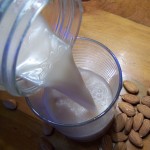 This is so easy to make, is much more delicious than store-bought, and you'll avoid all that packaging.
1 cup raw almonds
You will also need: unbleached cheesecloth
Yield: about 4 cups almond milk
Put the almonds in a glass bowl and cover with 4 cups water. Refrigerate overnight. Drain, rinse, and put in the blender with 3 cups fresh water. Blend until smooth. Strain through a cheesecloth-lined strainer into a pitcher.
To sweeten, return the almond milk to the blender and blend with 3 or 4 dates that have been soaked in water for a couple of hours.