I don't know about you, but I've got a bunch of leftover pumpkin from Halloween. Here are two of my favorite recipes that a are easy to whip-up and perfect for kids too.
Chai Pumpkin Muffins
Yields 16- 18 muffins
These moist, spicy muffins are great for breakfast with a steaming mug of tea or coffee and also great for an afternoon treat. Make a batch and freeze half of them.
2 medium eggs
1 1/2 cups of wholewheat flour
1 1/2 cups of all-purpose flour
2 tbsp ground flax
1 cup maple syrup
1 cup So Delicious Coconut  milk
4 tbsp virgin coconut oil, melted
2 cups pureed cooked pumpkin
½ cup unsweetened applesauce
2 tablespoons brown sugar
4 teaspoons baking powder
1 teaspoon salt
1 teaspoon cinnamon
1 teaspoon nutmeg
¼ teaspoon ground cloves
¼ teaspoon allspice
¼ teaspoon ginger
1 cup toasted pecans
DIRECTION
Preheat oven to 325°F.
Combine all ingredients in a large bowl; mix until smooth.
Fill sprayed muffin tins with mixture until ¾ full. Bake 22-30 minutes, until a toothpick inserted in a muffin comes out clean.

Creamy Pumpkin Soup and Parsnip soup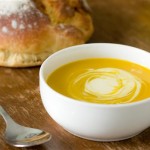 Serves 4
2 tbsp butter
1 medium onion, chopped
2 cloves garlic, minced
1tsp ground cumin
1/2 tsp red chili flakes
Small to Medium pumpkin, peeled and de-seeded & cut into cubes
2 large parsnips, peeled and sliced
1 cup soy milk
3 cups chicken or veggie stock
Sea salt and black pepper
1/4 tsp ground cinnamon
DIRECTIONS
Melt the butter in a heavy stockpot  and add fry the onion and garlic until softened. Add the cumin and chili flakes and fry gently for 2 more minutes.
Add the pumpkin, stock, milk, and seasoning and bring to the boil. Turn down the heat and simmer for 20 minutes or until pumpkin is tender. Puree with immersion blender until smooth. As the chard and simmer for 5 minutes. Spoon into warmed bowls and add a mound of rice to each bowl (optional) with a dust of cinnamon and/or a swirl of sour cream.