I try to think of every which way I can get walnuts into my daughter because they are the king of nuts when it comes to healthy nutrition, and they are especially important as part of a breast cancer prevention diet. But the only way she'll eat them is when they are partially disguised. So, with gluten-free week upon us, I decided to make a batch of moist, chocolatey muffins and stuff them with walnuts and bananas. The result was very well received!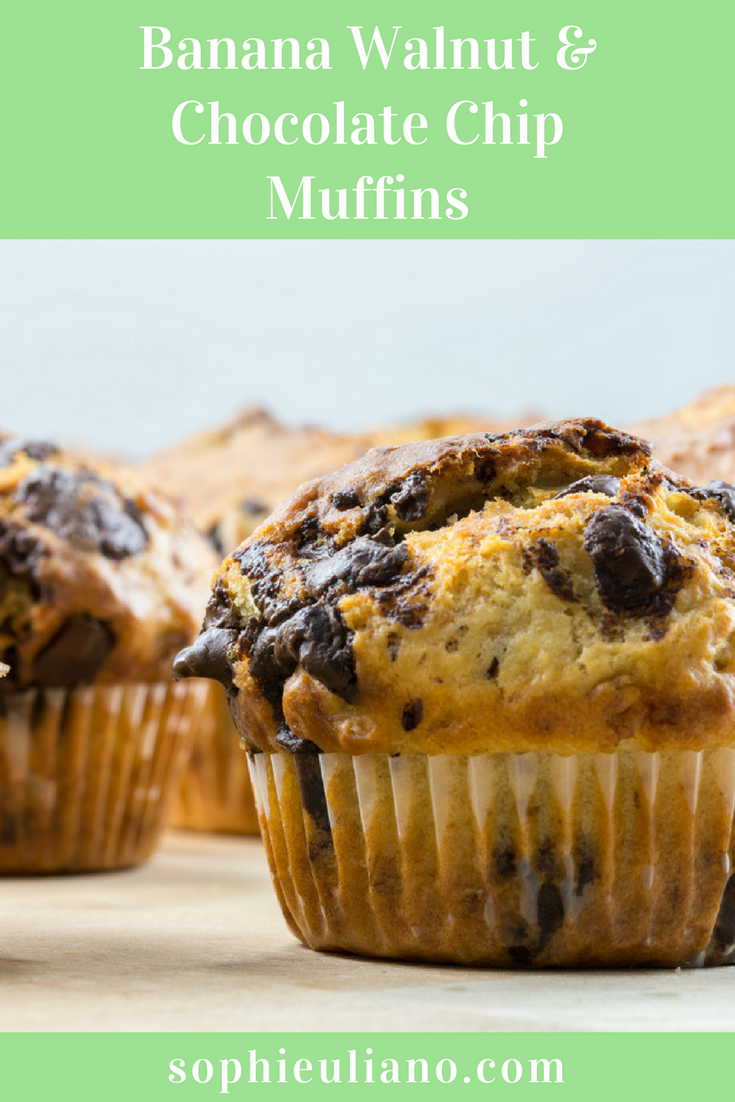 Ingredients:
1 cup mashed banana
2 large organic eggs, beaten (you could use flax eggs or egg replacer if you are vegan)
1/4 cup organic coconut oil
1 tablespoon honey or Yacon Syrup
1 cup packed light brown sugar
1 1/2 cups Pamela's Gluten Free Artisan Flour mix
1 teaspoon baking powder
3/4 teaspoon xanthan gum
1/2 teaspoon fine sea salt
2 teaspoons  vanilla extract
1 teaspoon ground cinnamon
1/4 teaspoon ground nutmeg
1/2 cup Enjoy Life mini chocolate chips
1 cup walnut pieces
Instructions:
Preheat the oven to 375ºF. Line a 12-muffin pan with paper cupcake liners, or lightly oil each muffin cup with a touch of oil. (I found the unlined cups gave rise to a higher muffin.)
In a mixing bowl, beat the mashed bananas with the eggs, oil, honey, and brown sugar till combined. Add the flours and starches, baking powder, xanthan gum, sea salt, vanilla, cinnamon and nutmeg, and beat until a smooth sticky batter forms. Fold in the chocolate chips and walnuts.
Spoon the batter into the 12 muffin cups. Bake on the center rack for 20 to 23 minutes until the muffins are domed and slightly golden, and a toothpick comes out clean.
Cool on a wire rack.
Serve warm.