Skin inflammation is perhaps one of the greatest beauty challenges we are now facing. I think it has a lot to do with the pollutants in our environment, skincare, and food. Since I get hundreds of questions about this issue, I reached out to Emily Frichey (aka The Skin Whisperer), to get her advice. Emily is owner of one of the least-known, but most effective skin care lines, Sunshine Botanicals. Emily – over to you!
---
Lines, wrinkles, breakouts, large pores and skin discoloration…conditions that are all too familiar as we age. Pollution, environmental exposure and many medical conditions all wreak havoc with how we look! It can be a real revolving door of trial and error to find effective skin care products that will work and not further escalate redness and skin sensitivity. Many women seem to get more reactive skin as they age, and hormones and gut health are major contributing factors. Harsh ingredients, poorly compounded skin care products and lack of environmental protection all contribute to the breakdown of the skins natural barrier function, often leading to chronic inflammation and candida on the surface of the skin. This can be VERY difficult to treat, even medically.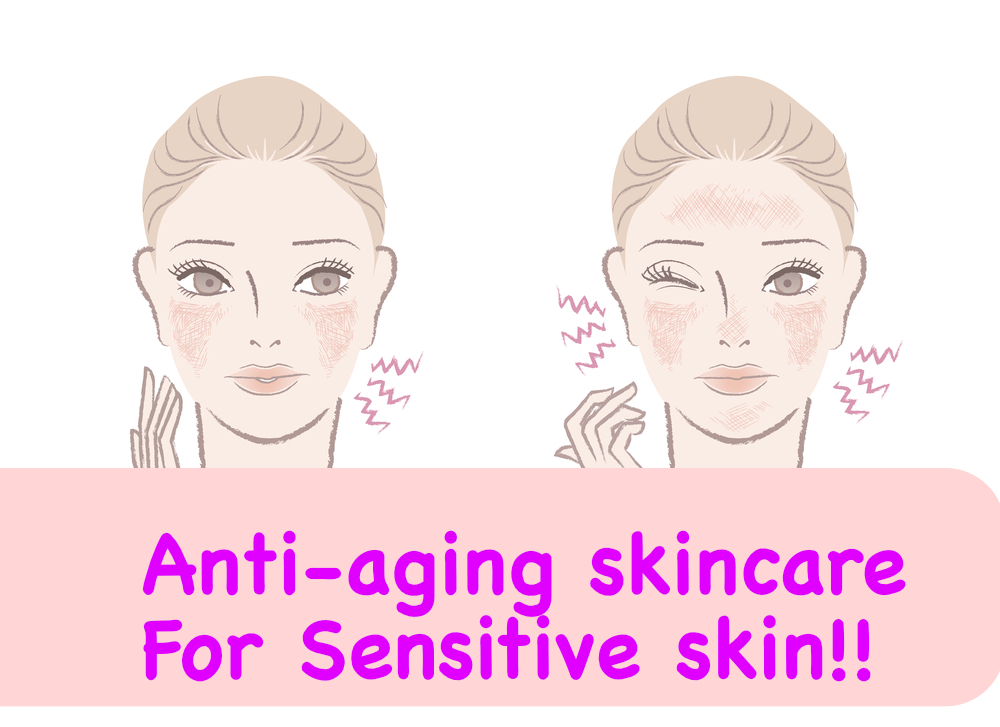 Retin-A and retinol products are one of the most widely known treatments for wrinkles and aging skin, however, this is simply not an option for sensitive and reactive skin types. Both of these Vitamin A derivatives can accelerate the inflammatory process and further break won the protective acid mantle leading to more redness and sensitivity. AHA's, acid based formulations and skin peels have a similar effect and lead to chapped, super dry skin conditions. Since all these ingredients are known to minimize lines, tighten pores and improve collagen in the skin – what to do? Read on….
A number of other conditions such as eczema, psoriasis, dermatitis and rosacea are almost epidemic these days and bring with them frustrating symptoms such as redness, itching, and flaky skin and making effective, daily skin care extremely difficult.
The best new is this – thanks to the awesome healing power of plant medicine and alternative therapies, we have MANY healing and non-inflammatory ingredient options that are abundant in nature to address every one of these frustrating conditions.
My approach to treating these frustrating skin conditions includes some of the most unique and sophisticated ingredients ever found in nature, and my approach is not symptom oriented. All too often we apply skin care "band aids" to treat symptoms and never get to the root of the problem for full correction. Since we now understand that a plant based, whole foods diet, gut health and body detoxification is the key to beauty and vitality – topical anti-aging treatment approaches are no different! The foundation of any effective skin care program MUST BEGIN WITH CLEANSING AND DETOXIFICATION.
The second strategy is to make sure your topical treatments (serums, creams, UV protection) contain high levels of antioxidants! This is vital to protect and repair environmental damage we are exposed to every day. Vitamin C serums have been used for this for some time now to help build collagen, lighten discoloration and firm the skin, however the acidity of l-ascorbic acid can be devastating for sensitive skin. This is one of the most important topical antioxidants used to treat the signs of aging, but since it is so acidic, it is not an option for inflamed skin.
It is for this reason I developed a "next generation" Vitamin C formula specifically for sensitive skin conditions. In my Brightening Moisture Fluid, I use Ascorbic Acid Polypeptide because the pH of this form of Vitamin C is much more compatible with sensitive skin conditions. Due to its melanin-reducing properties, it can improve the appearance of freckled complexions, age spots and discolored skin areas. The protein and carbohydrate constituents of this form of Vitamin C serve as excellent moisturizing and counter-irritating agents which penetrate deeply into the epidermis. For this reason, it serves as a protectant against climatic damage, overexposure to sun and wind as well as airborne pollutants and irritants. Excellent results with absolutely zero side effects!
Exciting ingredient for sure…but this just scratches the surface – there are LOTS of healthy ingredients that will address all these aging conditions and reduce inflammation in the process! I could not wait to share my top 10 list of most potent ingredients to reduce the signs of aging and redness – at the same time!
 Here are the Top 9 Anti-Aging Ingredients and Sunshine Botanicals Products for Sensitive Skin, which Emily recommends.